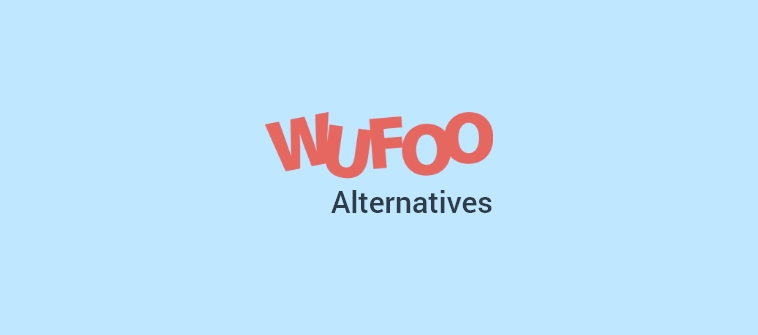 If you've been using Wufoo and looking for Wufoo alternatives, then you've come to the right place.
New software solutions are released frequently, and you can always find a better and more robust alternative to meet your needs. This is what we're going to discuss in this post – tools similar to Wufoo so that you can upgrade the way you build online forms, share them with your audience, and collect data.
According to data collected by WPForms, a provider of WordPress contact form plugin:
74% of companies use web forms for lead generation

Using a quiz-like form for collecting information has the potential to triple conversions

29% of people cite security concerns as one of the main reasons for abandoning online forms, followed by form length (27%)
These facts reinforce the important roles web forms play in marketing and sales as the first point of contact. Leverage them by adopting the best tool for your unique needs.
With that in mind, in this post, I'll present some of the best Wufoo alternatives and will discuss each of these alternatives in further detail.
What is Wufoo?
Wufoo is an online form builder that you can use to create custom forms in minutes. Using this cloud-based solution, you can generate contact forms, registration forms, application forms, surveys, payment forms, and more.
This award-winning form builder is easy to use, customizable, and comes with templates and reporting features. You can design your own theme, add branding, upload files, accept payments, and get real-time notifications.
Based on your needs, you can choose from different plans. Wufoo also offers an always-free plan.
Why Look for Wufoo Alternatives?
There is no doubt that Wufoo offers some of the amazing features and corresponding benefits to users. But like many other solutions, the platform is not without its share of shortcomings or disadvantages.
For example:
The dashboard for Form Manager lacks engagement and doesn't show the entire information

Form customization needs some improvement

There's a limit on the total number of fields one can use in a form

You cannot move data between forms

The forms look too bland. It will help if users can deck them up a bit

Data analysis can be more robust
Considering these limitations in Wufoo, you'd certainly want to explore other options available on the market before you make up your mind. That's why I'm here today – to provide you with a list of 10 alternatives to Wufoo. It will enable you to make a better choice specific to your needs.
Features Of Wufoo
Wufoo comes equipped with some of the in-demand form features. Some of them are:
Form Builder: Wufoo makes creating web forms a breeze. You can build your own forms or leverage one of its templates. The solution supports a drag-and-drop form builder and is suitable for any business use case.
Automated Workflows:

Free up your time from tedious and repetitive tasks through workflow automation so that you can focus on more important things. Seamlessly transfer your form data to your marketing platforms, CRM, and more.

Branching & Logic:

Give a personalized experience to your form-fillers. Keep them delighted with conditional logic and branching scenario. This will make the forms more relevant to your respondents and enable you to get better responses.

Data Export:

Easily export your form data to a spreadsheet or CSV file. This feature is helpful, for example, when you've reached the maximum number of forms with your account and need to move the data somewhere else or when you need to do some data analysis.

Data Encryption: With Wufoo, you can rest assured about data security. It uses one of the most secure methods of data encryption. All the data you collect on its forms are protected with 256-bit SSL encryption before sharing them with its servers.
Custom Reports:

Get a visual display of the data you collected through your online forms. Easily share them with your stakeholders. Use Wufoo's system-generated reports or create your own custom reports.
10 Best Wufoo Alternatives
1. ProProfs Survey Maker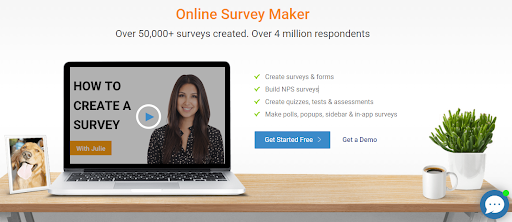 ProProfs Survey Maker is the world's most versatile survey and form-making tool that enables users to ask any question, the way they want. Using this tool, you can build web forms such as contact us, product feedback, and job applications.
Key Features
100+ ready-to-use form templates

Questions under different categories

Branding options

Surveys for feedback

Advanced reporting features
Why Choose ProProfs Survey Maker?
Simple & Easy:

It is designed for all skill levels. No HTML experience or software download is necessary to start using it. With its drag-and-drop feature, you are just minutes away from

creating awesome surveys

and sidebar forms

.

Templates & Question Types: Leverage 100+ survey templates and 1,000,000+ ready-to-use

survey question examples

. It is easier than you think to get started with form and survey creation.

AI Reports:

Never make business decisions based on gut feelings. Instead, base them on insightful real-time reports. Easily track responses and results on each of your forms.

Awesome Support:

The survey software is backed up by awesome support 24/7. You can call or chat with the customer service and use its self-service

knowledge base

.
Pricing
Starts from $19 per month.
2. Qualaroo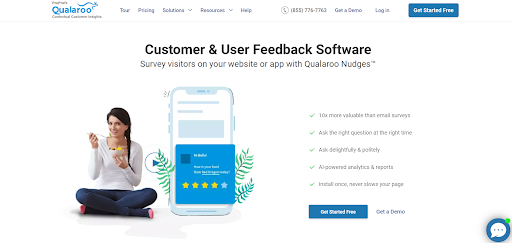 Qualaroo is a customer and user feedback software. Businesses can use it to conduct surveys and get feedback in real-time on their website, UX, product, and conversion rate. The proprietary Qualaroo Nudge™ technology can be used on websites, mobile sites, and in-app to ask the right questions at the right time without being necessarily intrusive. It's based on years of research, key findings, and optimizations.
Key Features
Custom questions

10+ question types

Professionally built templates

AI-powered reports and analytics
Why Choose Qualaroo?
Easy to Use:

The tool is easy to understand, set up, and use. No coding is required.

Ease of Customization:

It comes with several options for customization and personalization, such as logo, colors, pop-up placement, and overlay images.

Professional Templates:

Kick-start your feedback gathering with a curated list of question templates. Collect user insights in minutes; no more staring at a blank screen.

Sentiment Analysis:

The sentiment analysis system, powered by IBM Watson, automates feedback mining so that you can focus on responding to the right customers, not on analyzing data.
Pricing
Qualaroo offers three pricing plans:
Essentials $0.0008/tracked pageview/month

Premium plan $0.0016/tracked pageview/month

Enterprise plan available on contact
3. SurveyMonkey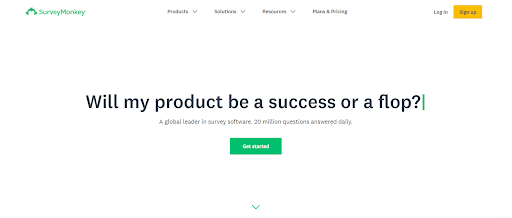 SurveyMonkey is the world's leading survey tool and one of the top Wufoo alternatives. Businesses use it to feel the pulse of their customers – what they think, need, and expect, to identify what's working and what's not with employees, and to conduct market research.
Its People Powered Data platform can help you turn your audience's responses into actionable data. It capitalizes on SurveyMoney's over two decades of experience to help businesses understand why things happen.
Key Features

Sample survey templates & questions

Automatica analysis of survey results

Data export

Customization tools

Flexible permission controls
Why Choose SurveyMonkey?
Intuitive Interface:

The platform's UI is modern-looking, sleek, and spacious. As SurveyMonkey said, it's designed to not just look better, but also feel better to use.

Pre-Written Templates:

Explore its 180+ survey templates with pre-written questionnaires. The templates are arranged according to nearly 10 different survey types.

Third-Party Integrations: SurveyMonkey integrates with collaboration platforms, customer data platforms, and cloud storage platforms to streamline business processes and get more things done.
Data Analysis: Act on your survey results and drive business growth through extensive analysis. View results in summary, filter results, and analyze open-ended responses.
Pricing
SurveyMonkey offers three business plans:
Team Advantage Rs 1,550/user/month

Team Premier Rs 3,800/user/month

Enterprise plan available on contact
Read more: Top SurveyMonkey Alternatives
4. Google Forms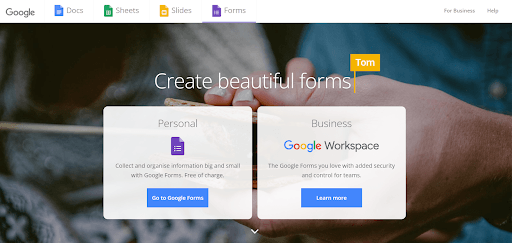 A free online tool from Google and one of the most popular, Google Forms lets you create forms, surveys, and quizzes as well as edit and share them in collaboration with other people. To create, access, and share Google Forms content, all you need to do is sign in to Google.
Key Features

Personal and business forms

Custom forms

Variety of questions

Data export

Page branching

Skip logic
Why Choose Google Forms?
It's Free:

Google Forms is available for free for anyone with a Google account. You can use it to create any number of forms and ask any number of questions to any number of people.

Ease of Use:

It is an incredibly easy solution to use, even for beginners. However, if you've any questions or need to sort something out, the

Google Help Center

can assist you.

It's Responsive:

Google Forms not only makes it easy to build and edit forms, but its forms are also responsive to devices of all screen sizes.

Accessibility:

Google Forms is fully accessible and it supports screen reader, full-page zoom, TalkBack, high contrast settings, and chrome accessibility extensions.
Pricing
Custom pricing is based on the number of questions and the type of questions. It is free for personal use.
Read more: Best Google Forms Alternatives and Competitors
5. PandaDoc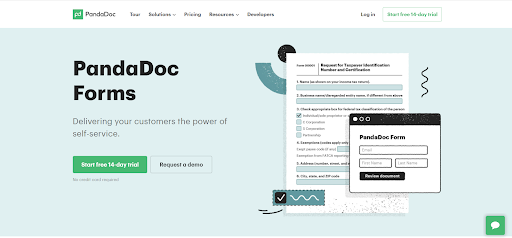 Another alternative to Wufoo, PandaDoc makes it easy to collect data and eSignatures from prospects, employees, job applicants, and suppliers. You can simply share a PandaDoc form through a direct link or embed it on your website. There is no need for coding.
The solution is used by businesses, healthcare, education, public services, non-profits, and eCommerce companies. You can create different forms with PandaDoc that include sign-up forms, employee surveys, feedback forms, membership forms, registration forms, and order forms.
Key Features
750+ editable business document templates

17 different form types

eSignature

Workflow management

Integration with existing systems

Onboarding services
Why Choose PandaDoc?
Easy & Professional:

PandaDoc is easy to use. You can create forms without breaking a sweat while still looking professional.

Supports Various Forms:

With PandaDoc, you can create over 15 varieties of application forms. This is more than what a standard business would need for its day-to-day operations.

No Coding:

Simplify how you collect user data and automate workflows of your documents without requiring any coding.

Visibility:

Keep track of who's done what with documents and how much time they spent on them with audit trails. Ensure visibility on your users' side.
Pricing
Free

Essentials $19/month/user

Business $49/month/user

Enterprise available on contact
6. Snap Surveys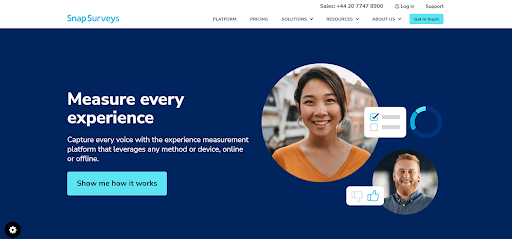 Snap Surveys is a provider of complete survey solutions developed by experts. It has established itself as an industry leader with a history dating back to the early 1980s, and brings a combined experience in software development and market research expertise.
Key Features
Experience measurement platform

Collaborative project-sharing

Smart reporting

Multiple survey formats and languages

Dynamic content

Visual questions
Why Choose Snap Surveys?
Years of Experience:

Snap Surveys has been in the business of survey solutions for 40 years. This adds a great deal of credibility and authority to its products and services.

Complete Survey Solutions:

From survey creation to paper surveys, questionnaire design, data collection, experience measurement, and analysis & reporting, Snap Surveys offers comprehensive solutions.

Design & Branding:

Use custom URLs, custom warning and error messages, background images, and choose from formatting options.

Research Services:

Leverage an

experienced research team and get help for your survey projects – from survey design, distribution, and data collection to in-depth analysis.
Pricing
Researcher £70 /user /month

Team £55 /user /month

Enterprise available on contact
7. SoGoSurvey

SoGoSurvey is a cloud-based SaaS platform for creating, distributing, and analyzing multilingual surveys, forms, quizzes, assessments, and polls. It is the most secure online survey software with some of the most advanced features. The tool can help you create a better customer and employee experience through feedback collection.

Using its professionally built surveys and assessments, you can gather user experience insights and decipher responses with the help of powerful analytics. The flexibility of the platform enables you to launch a variety of projects for collecting data.
Key Features
Template bank

Ready-to-use survey templates

Predictive analytics

Seamless integrations

Leading security standards
Why Choose SoGoSurvey?
Trusted By Top Brands:

SoGoSurvey is used by some of the renowned brands, including Nestlé, MetLife, Biocon, and Maersk.

Sample Templets & Questionnaires:

Crafted by experts and ready to use, these sample survey templates and example questionnaires make it easy for you to get started.

Comprehensive Form Builder:

Easily create contact us forms, event registration forms, training feedback forms, and many others using a feature-rich form builder.

Auto-Translation:

Extend your reach to a worldwide audience with multilingual forms. Create a form in your primary language and translate it to 37 languages automatically.
Pricing
Free basic plan

Plus $25/month
Pro $66/month
Premium $99/month
Enterprise available on contact
Read more: Best SoGoSurvey Alternatives & Competitors
8. Zoho Survey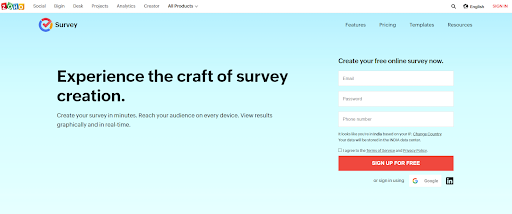 Zoho Survey is a top-rated online survey platform for market research and feedback collection. You can use it to create online surveys and questionnaires easily and for free. There are various options for data collection and social sharing.

Easily share your surveys with people on your list by using email and social media campaigns. All this while keeping your surveys private and secure with Secure Sockets Layer (SSL) protection.

Key Features
250 expert-designed templates

Drag-and-drop survey builder

20+ different question types, piping, and skip logic

White-labeling

Smart reports

Integration with Zoho CRM, MailChimp, Google Docs, etc.



Why Choose Zoho Survey?
Mobile-Optimized:

Zoho Survey supports both Android and iOS devices, allowing you to share surveys and collect data on the go.

Survey Translation:

Speak to your audience in a language they understand. Translate your surveys in more than 70 languages.

It's Secure:

Keep your surveys confidential and safe through password protection, preventing multiple responses, SSL, and CAPTCHAs.

Lightning Fast:

You can create surveys in minutes, share them with your audience on any device, and view results in real-time.
Pricing
Free plan
Plus ₹600/month. Billed annually
Pro ₹1,700/month. Billed annually
Enterprise ₹3,900/month. Billed annually
Read more: Best Zoho Survey Alternatives & Competitors
9. Hubspot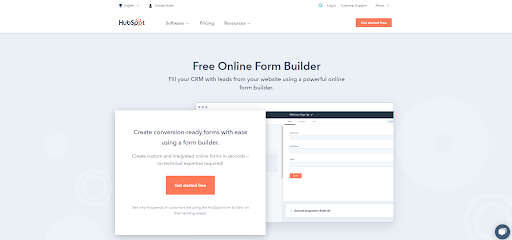 Hubspot is a free and customizable online form builder that can help you convert anonymous website visitors into leads. Users can automate emails and other notifications from within the form builder to get information on form completions. Keep data in each form separate through partitioning. Add custom CTAs to influence user behaviors.

Key Features

Drag-and-drop form builder

1,000 form fields and 12 different field types

Direct integration with HubSpot CRM, Salesforce, etc.

Automatic emails and notifications

Analytics
Why Choose Hubspot?

Conversion-Ready Forms:

Easily create conversion-ready forms for your landing pages in seconds using an intuitive form builder. No need for prior technical know-how.

Free Business Templates:

Explore and choose from 80+ designer-approved business document templates for customer service, marketing, bid proposal, and more.

Seamless Experience:

You can use Hubspot alongside your favorite tools. Over 75 integration partners work with the platform to offer a seamless experience to users.

Award-Winning Customer Support:

Get access to award-winning customer service, 24/7, to support your growing business.
Pricing
Starter starts at $45/month

Professional starts at $800/month
Enterprise starts at $3,200/month
10. 123 Form Builder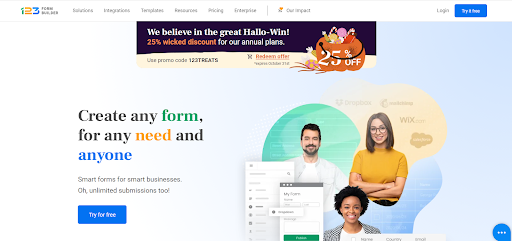 123 Form Builder is a user-friendly, versatile, and innovative online form builder. It is used by individuals, small businesses, and enterprises to create online forms, surveys, quizzes, and polls. There's no cap on submissions. Unlike other form builders, 123 Form Builder integrates with the most number of tools. This translates into no entering of data manually and no more exporting and importing data.
Key Features

Drag-and-drop tool

HIPAA & ISO 27001 compliance

Conditional logic fields

Email notifications

Multi-language forms

File uploads
Why Choose 123 Form Builder?
Easy to Use:

An intuitive interface makes it as easy as 1,2,3 and requires no coding skills.

Large-Scale Integrations:

123 Form Builder integrates with more tools than any other form solution of its kind. They include CRM, SMS, email marketing, project management, and marketplace.

All Types of Form Templates:

You'll find at 123 Form Builder all kinds of form templates you can literally think of. There are close to 40 different templates to put it in terms of number.

Fully Brandable:

You can easily create branded surveys by uploading your logo, colors, and fonts, and by personalizing questionnaires.
Pricing
Basic plan is free
Gold $20.83/month. Billed yearly
Platinum $37.49/month. Billed yearly
Enterprise starting from $199.99. Billed yearly
Feature Comparison Table For Wufoo Alternatives
| Features | ProProfs Survey Maker | Qualaroo | Survey Monkey | Google Forms | PandaDoc | SnapSurveys | SoGoSurvey | Zoho Survey | Hubspot | 123 Form Builder |
| --- | --- | --- | --- | --- | --- | --- | --- | --- | --- | --- |
| Hosting Type | Cloud | Cloud | Cloud | Cloud | Cloud | Cloud | Cloud | Cloud | Cloud | Cloud |
| Survey/Form Teamplates | Yes | Yes | Yes | Yes | Yes | Yes | Yes | Yes | Yes | Yes |
| Questionnaires | Yes | Yes | Yes | Yes | No | Yes | Yes | Yes | Yes | Yes |
| Multi-Lingual Support | 70+ | 100+ | 55 | No | 7 | Yes (Number not specified) | 28 | 70 | 15 | 7 |
| Software Integrations | 7 | 20+ | 100+ | 127 | 40 | No | Yes (Number not specified) | 650+ | 875+ | 70+ |
| Conditional Skip Logic | Yes | Yes | Yes | Yes | No | Yes | Yes | Yes | Yes | Yes |
| Security | GDPR-compliant, password-protection, privacy controls | Encryption, SSL (HTTPS), Amazon S3 Bucket | SAML 2.0, PCI DSS 3.2, SOC 2 | HIPAA, Password protection, CAPTCHA | Bank-grade AES-256 encryption, PCI DSS Level 1 | ISO 27001, SSL, SSAE 16, daily vulnerability scan | - | - | - | - |
| Reporting and Analytics | Yes (AI-powered) | Yes (AI-powered) | Yes | Yes | Yes | Yes | Yes | Yes | Yes | Yes |
Choose the Best Wufoo Alternative
These are some of the top Wufoo alternatives that you'd certainly find helpful while shopping for a survey or form builder. The idea is to get access to more choices and adopt a tool that best fits your specific needs.
While you're out looking for the best alternative, don't forget to give ProProfs Survey Maker a try. The tool is used by small businesses, entrepreneurs, and marketers to create custom surveys, quizzes, polls, and forms customized.
Similarly, its sister tool Qualaroo can be another effective tool for user experience data and feedback. Gather customer insights easily and grow your business.
But don't just take our word for it. Find out what our customers have to say about our different products in these case studies. Pick the best tools for your business.
Do you want a free Survey Software?
We have the #1 Online Survey Maker Software to get actionable user insights.