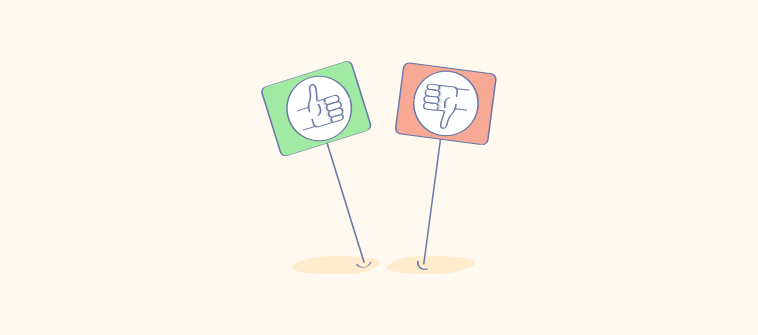 After all the hard work, money, and time; you finally packed up your long-awaited event, and it was probably the best moment of your life but was it the same for your audience or attendees? You might believe that your event met your expectations, and everything had gone as you had hoped, but what's more important is how your attendees feel about it.
Your efforts don't end after you wind up your event; in fact, there is that 'one' important after-event activity you need to accomplish to benefit your business in the long run. It's a well-structured, simple, and striking 'post-event survey.'
# What is a Post-Event Survey?
A post-event survey is usually conducted after the event is completed and its purpose is to analyze your audiences/customers' expectations and thoughts about your event. You may either use the postcard method or create free online surveys to take the attendees' honest feedback and find ways to improve your performance.
Here's a video on How to Create a Free Online Survey:
Here are five ways conducting post-event surveys will help you assess your event's performance and in turn, add spark to your business. And as a bonus, you will also find some easy yet useful tips to create your survey.
# How Do Post-Event Surveys Help a Company?
You Receive Valuable Feedback from Your Audience, and Get to Know Them Better
The ultimate purpose of conducting a post-event survey is to obtain potential feedback from your attendees and eventually, know them better. Such surveys are helpful in assessing the following things:
You get to know attendees opinion about the event.

You get to know your audience's expectations from your products or services.

Post-event surveys help to predict your audience's willingness- if they would like to attend such events in the future or not.
Your customers are your assets. Therefore, knowing and serving them better can help your business to grow!
You Can Assess Your Performance Better, i.e., Have a Reality Check
It is not necessary that your views align with that of your customers. You may be in awe of how your event had gone, but it is always better to have a reality check from your audience. And what could be better than conducting a post-event survey to serve the said purpose? Your business is out there for a reason; to help people, to solve a bothering issue or just to earn more. And the event you set up was a tool to help your business reach the crowd.
However, these events lose their purpose when you stay in a cocoon and limit yourself with what you believe is perfect. You need to give an ear to your audiences' opinions and evaluate their perspectives. Hence, a post-event survey is one such thing that can help you find out whether or not your event was a success; and if your business is living up to your expectations and up to the purpose you had set it with or not.
You Will Be Able to Develop New and Effective Marketing Strategies
Post-event surveys are excellent sources for identifying the current market and demand. Your attendees must not be the only ones who answer your survey. You need to spread them to your sponsors, volunteers, and other team members to get a broader perspective of your event's and business. Comments and feedback from such people can help you have an idea of whether or not your business is keeping up with the latest trends. Based on this you can develop new marketing techniques to make ground for your business and spread it to a wide audience.
You Make Room for Improving Your Next Event!
Studies reveal that 80% of marketers believe live events are crucial to their organization's success. So do you want to conduct another event to inch your business towards success? Surely yes. To reap the maximum rewards from your current event and improve in future events, it is necessary to identify the areas that require improvement. By conducting a post-event survey you can not only identify areas in which you fell short in the current event but also identify key areas to improve in the future.
Your Post-Event Survey Results Can Be Your Proof to Attract More Sponsors/Stakeholders
According to a 2016 study, 16% of event planners consider getting sponsors their biggest challenge. But a post-event survey can prevent you from being among this 16%. Wondering how? Well, it's your positive survey results that will be of help. Your post-event evaluation results, screaming your event's success story will serve as proof of your ability to guarantee success and draw in future sponsors.
Just a simple evaluation of how your event has performed can help you grab all of the benefits mentioned above and can add more spark to your already shining business. Moreover, creating such surveys is no longer a matter of concern; the growing technologies have facilitated easy ways to create free online surveys instantly. There are a lot of free survey and quiz making tools that you can use for this purpose.
Having said that, here are a few tips you need to keep in mind while you create free online surveys to assess your event's performance:
# How to Create an Effective Post-Event Survey?
Be Quick in Sending Your Surveys
The quicker you send your surveys, the better it becomes for the attendees to share honest opinions. You don't want the attendees to forget their experience while they answer your survey. So, make sure that you send it within 24 hours of the event's end.
Avoid Creating Lengthy Surveys
According to a study by 'Opinion lab,' 80% of customers abandon a survey halfway through, and 52% said that they would spend no more than 3 minutes to fill a survey. With these statistics in mind, it is crystal clear that long surveys will only drive away your audience from filling it up. So keep it precise and short.
Keep Away from Complicated Questions
Questions that mess with your attendees' brains for a long time will not be of benefit to you. Your questions need to be clear and to the point so that your audience doesn't feel it to be too much of a bother to answer all questions. Short and concise surveys are also easier to evaluate for actionable feedback.
Opt for Multiple-Choice Questions
Multiple-choice questions take less time and are easier to answer. Hence, people feel more comfortable answering these types of questions rather than the open-ended ones.
Be Prepared in Advance
The purpose of a survey is to evaluate your event's success and your audience's future expectations. Hence, to make it effective and serve its purpose efficiently, it is essential that you create the survey well in advance. This will help you have enough time to prepare thoughtful and valuable questions for the attendees.
Let Your Audience Connect
A short description in the beginning and a warm thank you note at the end will do wonders in connecting your audience to you. Apart from this, you should also arrange the questions in a systematic order, i.e., one question should easily follow the other. This will help the attendees not to lose the rhythm and answer all the questions in one go.
You can find below a few example questions to include in your surveys:
How would you rate your event experience? (provide a rating scale)
What did you like the most and the least about our event? (open-ended question)
What suggestions do you have for us to improve? (open-ended question)
Would you like to attend our events in the future? (yes or no question)
How likely are you to recommend our event to others? (provide a scale from not likely to very likely)
Conclusion:
You now know the benefits of post-event surveys and also have a few tips to create active surveys or you can refer these event survey templates. So to sum it up, here are the key takeaways from the entire discussion:
Post-event surveys help you to assess your audiences' opinions and their expectations of your business.

You gain both positive and negative feedback that help in improving your next event.

You get to know where your company is lacking in competing today's trends. Knowing this can help you to develop new marketing strategies.

Your survey responses will help you grab more sponsor offers for your next event.
Do you want a free Survey Software?
We have the #1 Online Survey Maker Software to get actionable user insights.