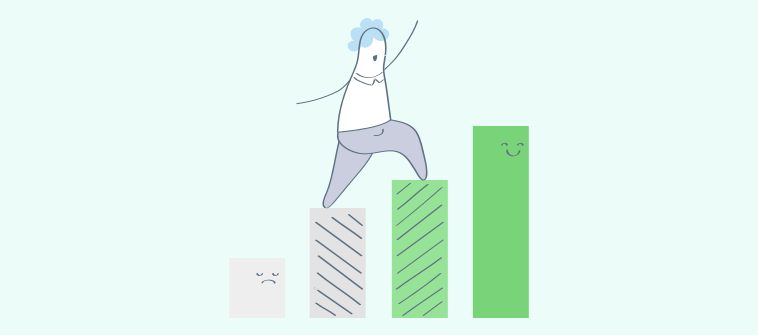 We've all heard way too many times that happy customers are the cornerstones of a successful business.
But what exactly does a happy customer mean to your brand?
And what do you even mean by a happy customer?
Apparently, even though all serious businesses want to have their customer satisfaction at the highest level, not all of them measure customer experience in the same way.
According to research by Gartner, large organizations having their revenue crossing the mark of $1 billion own more than 50 CX metrics while some big organizations possess around 200 of them.
Just like the bigger firms, any company can own an endless number of CX metrics that help evaluate different stages of the customer journey or the combinations of customer experience measurement tools that you can rely on.
However, there are some ways of measuring customer experience that can be more effective than others? And how to measure customer experience thoroughly without leaving out important parameters?
Read on and find it out.
What is Customer Experience Measurement?
The measurement of customers' experience at all touchpoints of the customer journey, including all customer actions, is known as Customer Experience Measurement.
How do you measure customer experience success?
It may not be simple since you cannot run after every customer at every step of their customer journey to know what they felt about their experience with your company but it's not that difficult either. All you have to do is:
Understand your target audience

Know all the touchpoints

Go for the right CX metrics depending on this
How to Measure Customer Experience or Customer Service
A Look at the Most Important CX Metrics:
In this section, we aim to understand two ways in which your organization can measure CX success effectively.
1.
Customer Experience Scorecard
To be able to decide which CX metrics you're going to use, first, you have to make sure you have clear goals. And to make use of these metrics, you should be able to express your goals both descriptively and quantitatively. That's what the scorecard is supposed to help you with.
To develop a customer experience scorecard means to put together customer data in a useful format that will help you compare your business' goals and expectations and your actual customer journey. Once contrasted, you can try to figure out the ways of improving the customer journey so that it meets your expectations. So, practically speaking, your CX scorecard should include:
Your main objective

, which refers to the ultimate goal you want to achieve (for instance, increased sales)

Your preferred metrics

, which you'll use to measure how close you are to your goal (for instance, conversion rate)

Your target values

, which express your goal from a quantitative perspective (expressed in numbers, percents, etc.)

Your business key performance indicators (KPIs),

which practically drive your objective (number of customers retained, percentage of market share, revenue, etc.)
Accordingly, only when you set your main objective, you'll be able to realize which CX metrics you're supposed to use to reach it.
Apart from that, once you've created your customer experience scorecard, you'll become more aware of your customers' satisfaction, their journey on your website, and factors that increase their loyalty.
Finally, you'll get to realize which of their actions are essential for your business success, and you'll also get some hints on what you should do to increase their satisfaction level.
2.
Relevant Customer Experience Measurement Metrics
To make sure that your customer experience measurement provides realistic and reliable results, you should base it on tracking more than one metric. This is especially important, having in mind that practically no metric can measure the entire customer journey at once.
So, to help you get the most out of your CX measurement, we're listing out the set of most important CX metrics. They're all connected with different stages of the customer journey that you should keep track of, so they let you monitor the entire situation thoroughly and consistently.
a. CSAT: Customer Satisfaction Score
As its name says, CSAT features the average score that your customers have given to your brand based on their experiences. It is usually used to help companies realize how happy their customers are with a certain product or service.
All you need to start collecting this type of feedback is to use a reliable survey maker that will help you create a simple survey. This survey can be positioned on a specific page of your website, sent via email, or featured in your website's live chat window.
---
Must Read: Top Online Survey Software
---
b. CES: Customer Effort Score
Customer Effort Score is another parameter that's based on customers' feedback that can be easily collected using a survey. It refers to customers' evaluation of the effort they had to make to perform a specific action on your website. This action may represent reaching out to your customer support, finishing a purchase, finding relevant information, or anything else.
Typically, the survey collecting this type of feedback has the form of a range scale. In other words, the respondent should describe his or her agreement with a certain survey statement using a number from 1 to 5.
c. Support Speed Metrics
There are two important support speed metrics that help you understand if your support system is efficient enough to prevent customers' frustrations. These are:
First Response Time (FRT),

which measures the time needed for agents to react to customers' initial messages.

Average Handling Time (AHT),

which shows the average time needed for your live chat agents to help customers' overcome an issue.
Apparently, the shorter the mentioned periods are, the better chances you have to keep your customers satisfied and, therefore, loyal.
d. NPS: Net Promoter Score
If you've ever come across that follow-up survey on a business website asking, "Would you recommend our brand to your friends or colleagues?", then you've seen probably the most convenient method of collecting data for NPS calculation.
More precisely, this parameter represents an index value that may go from -100 to +100, dividing the people who bought your products or services into three main groups:
Promoters

, who are most likely to spread the word about your brand since they love your products,

Passives

, who are happy with your products but not interested to recommend it,

Detractors

, who won't recommend your brand owing to their disappointment.
Of course, your goal is to provide customer experience that will reduce the number of detractors and increase the number of promoters as much as possible. If you succeed in this attempt, you can consider your business as a well-performing one. And that's what makes this metric so important.
---
Must Read: Best Net Promoter Score Online Survey Software
---
How to measure customer experience success apart from the usual metric
s?
Other than NPS, CSAT and CES there are some other customer experience metrics that businesses can consider to drive growth and improvement in customer service. Let's have a look at a few of them:
Retention Loyalty: How likely is it that a customer will stick to a brand?
Purchase Loyalty: How likely is it that a customer prefers to make purchases from a brand?
Waiting Time: How much time the customer had to wait for the support team to respond to their queries.
Meeting Expectations: How much different was the customers' experience from what they were expecting.
Online presence: How much effort it took for the customer to find what they went searching for.
Summing Up: The Best Strategy For Customer Experience Measurement
As you can see, there are two important aspects of a successful customer experience measurement strategy.
So, to be able to measure customer experience in a way that provides clear, precise, and reliable results, here's what you should have in mind:
the creation of an adequate customer experience scorecard (which includes your objectives, parameters that you're going to track, and quantitative presentation of both your current performance and your target values);

the selection of metrics that will help you measure aspects relevant to reaching your goals.
Accordingly, provided that you wisely combine these two essential measurement aspects, you can expect to obtain realistic and meaningful results. And these can help you easily identify the parts of your customer journey that should be improved to take your customer experience to a higher level.
Ways to Implement CX Measurement Strategy
Understand the flexibility quotient: Some software providers can revamp your surveys quickly while others may take a few weeks or suggest ways to let you do it on your own.. Have a clear understanding of your resources to select a software provider that offers you complete flexibility to accommodate such changes.
Scope of scaling: Businesses operating in different countries or regions need a system that is equipped to handle diverse environments. Invest in a system that is tested across different regions to accommodate your business' complex needs as and when they arise.
Affordability: The cost of the system is one reason that can compel the companies to take up the customer experience measurement project on their own. Some, on the other hand, settle for mediocre systems available at the lowest price, out of cost-consciousness. This can be a bad decision for a company aiming for long term growth. Be intelligent to choose a system that helps you create the desired impact in terms of ROI.
So what are you waiting for? Use the above-mentioned information to select the most successful customer experience measurement system that is best capable of gathering feedback at various stages of the customer journey and offers a blend of all the necessary metrics to create the maximum impact.
Do you want a free Survey Software?
We have the #1 Online Survey Maker Software to get actionable user insights.