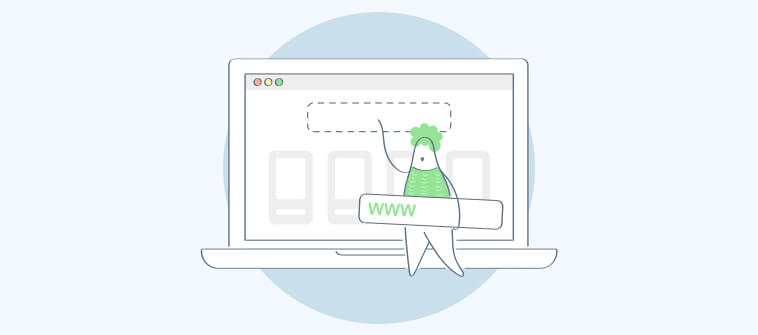 Every brand focuses on trying to collect customer feedback through surveys and other similar means. While the customer may love to provide feedback to the brands they are associated with, the sheer number of surveys they encounter leads to survey fatigue, making it a significant problem.
Marketing and research teams spend countless hours analyzing data to identify ways to create attractive and engaging surveys to collect maximum responses.
Creating an engaging survey is essential to get a good response rate, but it is also necessary to ensure that it is sent through the right channel. Send a survey through the wrong channel at the wrong time, and customers will choose to ignore the survey even if it is the best survey ever made. Finding the right distribution channel is as important as choosing the right online survey maker.
In this blog, let's discover:
Why a website is an effective distribution channel for surveys

Types of surveys you can launch on a website, and

How you can embed surveys on your website using a survey maker tool.
Why Embed Surveys on Your Website?
There are various benefits of adding surveys to your website. Here are a few significant ones that you should know.
It lets users take the survey without leaving your website

Collecting feedback gets faster and easier

Conducting surveys on a website increases the chances of customers giving you accurate and relevant feedback

You can cover various aspects of your brand and its offerings in a website survey

It's easy on the pocket and time-saving
Types of Website Surveys
Forms:

Not every survey has to be a questionnaire that requires thoughtful answers from your customers. You can

embed a survey as a form that accepts responses to job applications or inquiries.

The responses to these forms can be sent automatically to your work email address, where they can then be processed further.
Long-Term Surveys:

Different industries have different needs when it comes to surveys. For example, Uber and other ride-sharing companies prefer instant feedback after one completes a ride. On the other hand, academics and research scholars would need to

collect data over long periods.

In cases like these, adding long-term surveys on websites can help.
Pulse Surveys:

Most bloggers and content creators, in general, would love to gather feedback from their customers on a particular piece of content. So how exactly do you

collect this feedback

without annoying customers? It's pretty easy!
Add a pulse survey at the end of a blog post rather than a generic call to action. It's short and best to track readers' satisfaction quickly. If you scroll to the end of this blog, you'll find an embedded survey example that does just this!
Now, let's jump to the blog's main topic that revolves around how to add surveys to your website.
How to Embed Surveys on Your Website Using Online Survey Maker?
Adding surveys to websites is extremely easy if you have the right survey maker tool. For example, ProProfs Survey Maker is a powerful tool that assists you in the entire process of writing, designing, and finally embedding surveys successfully on your website.
Let's take a detailed look at how this tool can help you out.
1. The first step is to create a survey. You can use the survey questions examples and templates or create a survey from scratch.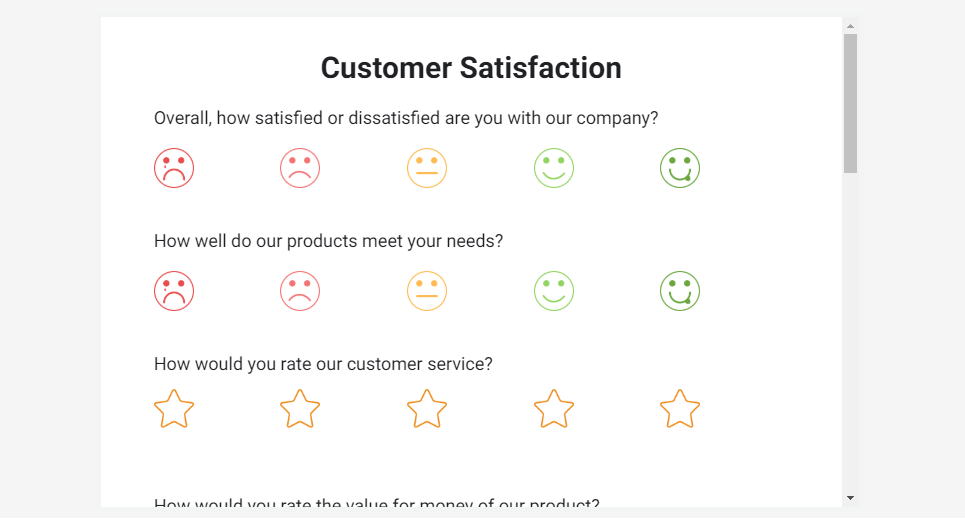 Watch: How to Create a Survey Using ProProfs Survey Maker
2. Once you have the template, start editing the questions, choose the question type, and decide the number of questions to be included.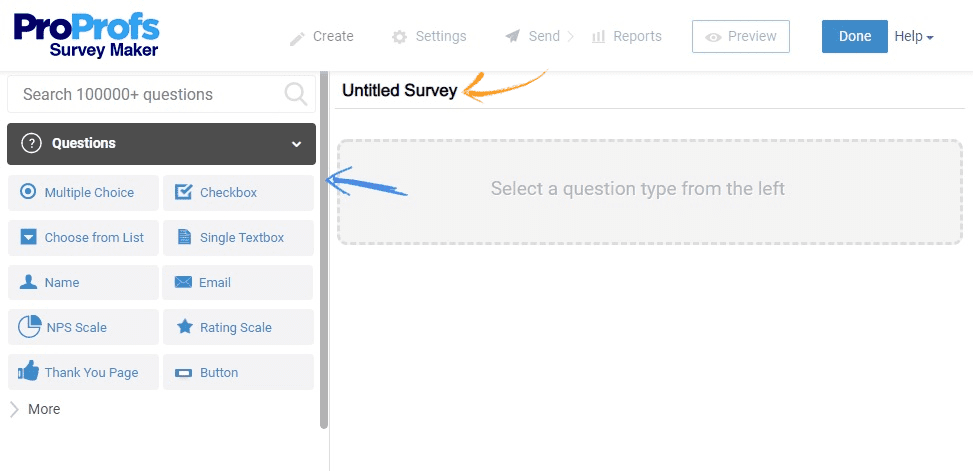 3. Add 'survey name, image, and description'. Click 'Save' once done.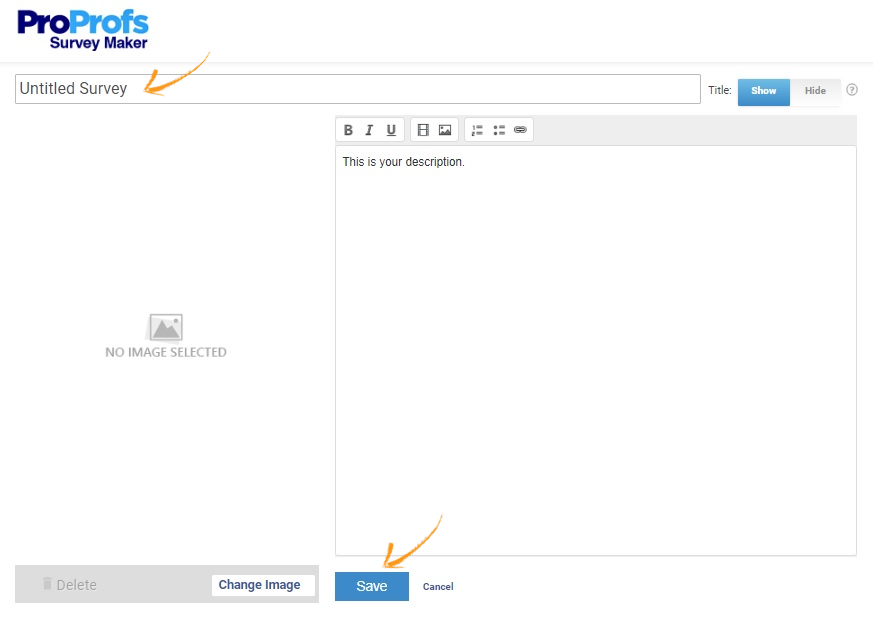 4. Customize the survey by adding themes, company logo, changing the background images, and colors.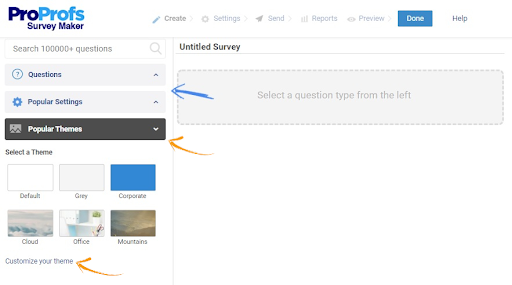 5. Click on 'Send' once done. It will open a dialog box where you can choose the channel to share your survey. Apart from embedding the survey to your website, the other options available to you are:
Email:

This allows you to share the survey link with your customers through email. You can upload their email addresses as a CSV file and instantly send your survey to your customers.

Link:

This provides a link to your survey, which you can then share among your customers.

Pop-up:

This allows you to add the surveys as a pop-up on a particular page.

Social:

This enables you to share the survey across your preferred social media channel directly.

Print:

This enables you to print the survey for hand distributed feedback collection.
6. Click on 'Embed.' You will see something similar to the following image on your screen.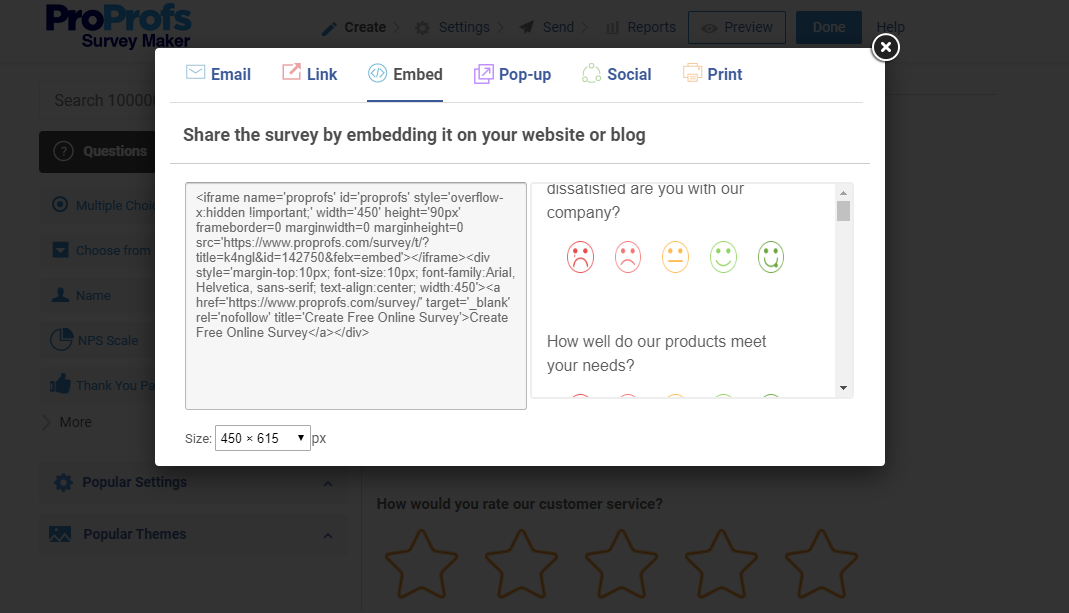 To embed the survey to your website, all you need to do is copy and paste this code on the web page where you want the survey to appear. You can select the size of the embedded survey by changing its dimensions in the lower-left corner.
---
Read More: What Is Survey Software? Types & Benefits of a Survey Tool
---
How to Embed Surveys as a Pop-Up on Your Website?
Embedding a survey as a pop-up is as easy as embedding it in a web-page. After clicking 'send,' simply select the 'pop-up' option. The resulting screen will look like this: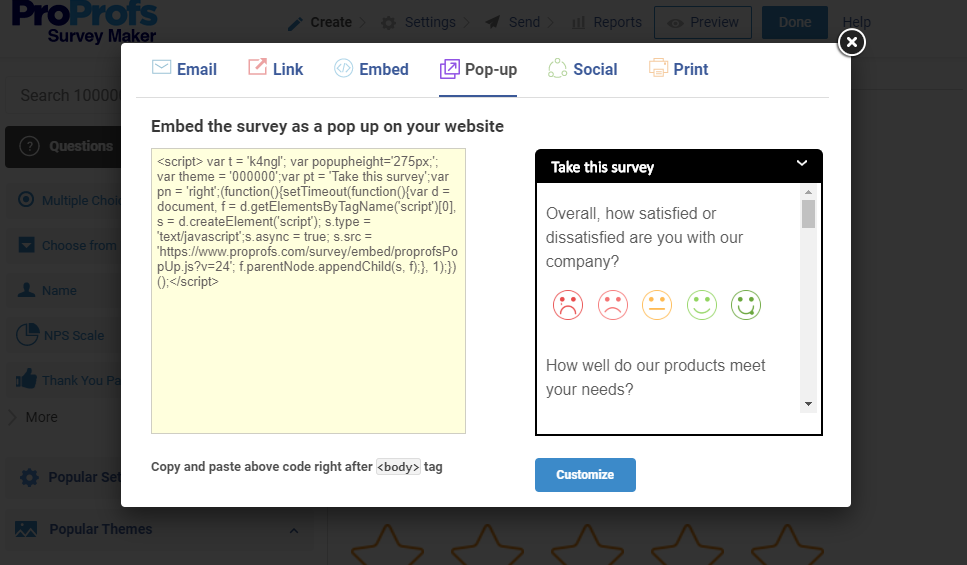 All you have to do is paste this embed code at the position where you want to display the pop-up survey.
Ready to Embed Surveys on Your Website?
Businesses today are constantly making efforts to craft exceptional experiences for customers. Surveys can be of tremendous help in this endeavor.
Delivering exemplary experiences depends on how well you understand your customers. For that, embedding surveys on websites is crucial. That's the best place where you can capture accurate and relevant feedback from customers without wasting time.
It's super easy with ProProfs. All you have to do is pick a template, decide your questions, edit them, and customize it with your brand logo, themes, and colors, and embed the code given to your website.
Have got questions? Reach out to us at our toll-free contact (855) 776-7763, and one of our support team members will get in touch with you.
Do you want a free Survey Software?
We have the #1 Online Survey Maker Software to get actionable user insights.