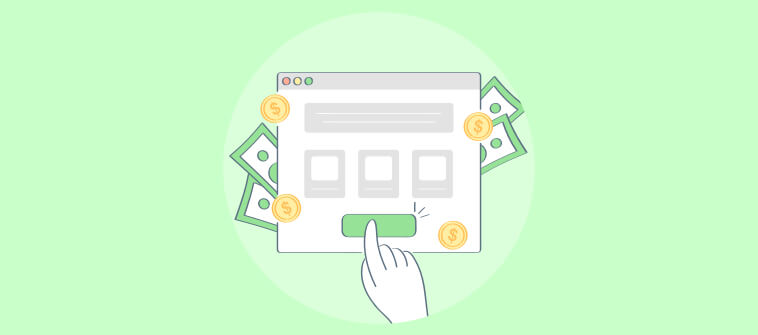 Lead generation is necessary for the survival and growth of any organization. Not just that, it is important to convert and nurture each of your leads to make them your lifelong customers.
But, lead generation is not as easy as pie. Both the quality and quantity of leads matter a lot.
"According to Hubspot research, 61% of marketers classify lead generation as their top business challenge."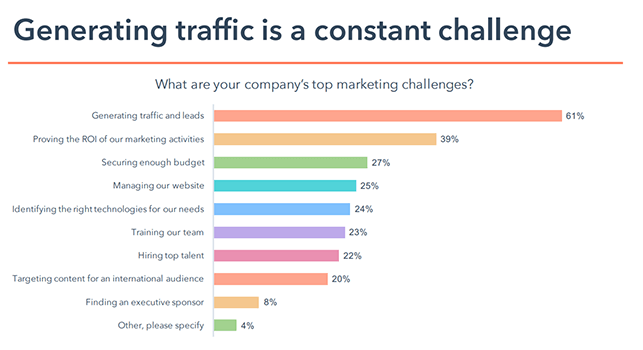 Source: Startup Bonsai
However, there are many lead generation strategies that help you generate quality leads for your business. These include the use of survey questions, using live chat to engage your potential customers, lead generation through affiliate and ad marketing, and more.
These days, surveys have been increasingly used to create standard and long-lasting leads for your business. In this blog, let's develop a clear understanding of how to write lead generation survey questions.
What are Lead Generation Surveys?
Lead generation surveys are used to form an in-depth understanding of your leads to know their needs and challenges: Are they from the marketing and non-marketing division of their company? What type of product are they looking for? What is their team size? When are they planning a purchase? And more.
With a clear understanding of the lead requirements, your sales team can engage with them better to convert them into a customer. Since different leads have different requirements, the lead conversion rate also differs.
Why Use Lead Generation Surveys?
A lead form by default has restrictions to collect just 2-3 details like the name, phone number, and email address of your prospective customer. These details are not enough to gauge the real pain points of your leads. This is where a lead generation survey jumps in!!
A lead generation survey is a cost-effective way to understand the needs and expectations of your prospective customer. A survey helps you to collect numerous details from your lead in addition to a name, phone number, and email address: What type of service are they looking for? What are their budgetary constraints? What is the size of their company, and more. Luckily, there are many automated survey generation tools available in the market like ProProfs Survey Maker using which you can create a basic lead generation survey for your business.
With a glimpse of how you can use a survey to improve lead generation, let's understand how lead generation helps advertisers.
What Do They Mean for Advertisers?
Advertising is an inorganic way of sourcing leads for any business. Though it may be costly compared to organic lead generation, advertising helps you get quality leads and boost your business growth. This can be seen from the example of Facebook advertising.
In 2019, Facebook saw a whopping increase in its ad revenue by 25% to $20.7 billion. In fact, organizations see Facebook advertising as a sure-shot way to achieve marketing and sales goals.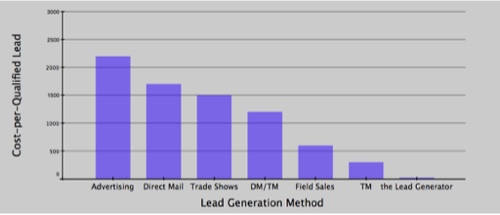 Source: JV/M, Inc.
In the next section, let's understand some lead generation survey best practices. These lead generation tactics have been applied across many industries and have generated constructive results.
Let's see how.
Lead Generation Survey Best Practices
Survey lead generation is about asking the right questions at the right time to your potential leads. You can easily share the survey link on social media, on your blog content, or embed it on your website to understand the requirements of your target audience.
1. Optimize Lead Generation Surveys as Benefits for Potential Leads
Through your lead generation survey show your target audience that you care for and value their opinions. Be empathetic towards their needs and imbibe a sense of trust in them. In this way, they will be more likely to answer your lead generation survey questions.
How can you achieve a high level of engagement with your potential leads?
Tell them the exact time required to complete the survey. It shows that you value their time and they are mentally well prepared to complete the survey. For example, tell them,

"This survey can be completed in just 2-3 minutes."
Make use of empathetic language to inspire confidence. For example, when you say, "We would love to understand your choices to serve you better."

Here, you make the target audience realize that they are filling the survey for their own benefit.
2. Ask Questions About the Leads' Buying Power
It is very important to know if your lead has the budgetary authority to make a purchase. In that case, you first need to know the designation of your lead. Then, you need to confirm if the purchase will happen immediately or it can take some time. If it is going to happen immediately, your customer support team can guide them through the process. If not, your marketing team can nurture the lead with regular follow-up calls or emails.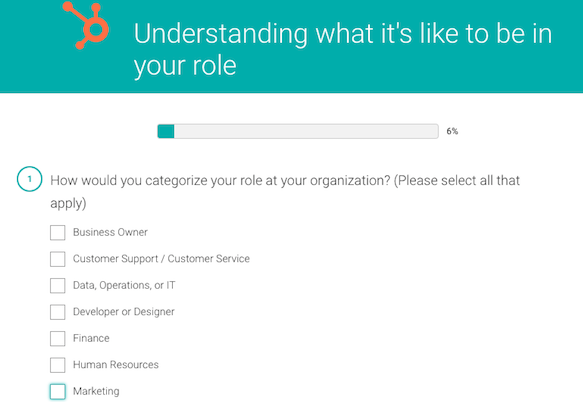 Source: Boast
3. Ask Questions on Your Leads' Goals
When you are conducting a lead generation survey, it is important to understand why potential buyers filled out the survey and got in touch with you. What are their goals? What solution are they looking for in the market? How many of your competitors have they tried out before reaching out to you? Ask all these questions to your leads to understand their end goals and to serve them better.
4. Continue To Stay in Touch With Your Lead After They Purchase
Did you know that a whopping 79% of marketing leads never get into the sales phase? This could be attributed to the lack of lead nurturing that involves regular follow-up with the leads. Even after they have become your customers, you need to conduct regular customer satisfaction surveys to understand their sentiments.
Some best practices that you can follow to nurture your leads are:
Get in touch with your leads through multiple channels like email, social media, ad marketing, cold calls, and so on.

Be proactive and get in touch with your lead after the first touchpoint.

Research

shows that if you try to contact a lead within 1 minute of the touchpoint, it increases the chances of lead conversion by a whopping 391%.

Show relevant and well-targeted content (blogs, social media posts, ads, and more) to your leads so that they are well informed about your brand.
Read more: How to Write Good Customer Survey Questions?
5. Minimize the Number of Questions
When was the last time you included more than ten questions in a survey and received poor survey results? The question length is very important in a lead generation survey. You need to be focused and precise while framing the questions. It should directly come to the point and center around your lead's immediate concerns.
For example, instead of asking personal details in the first 3-4 questions, directly ask your leads about the product or service feature that they are looking for. It will save you as well as your lead time and energy.
Here are few survey question guides that can help you choose the right questions for your surveys:
7. Make the Questions Required/Mandatory
Usually, when the survey questions are made non-mandatory, there is a tendency for the target audience to skip certain questions. It does not serve the real purpose of your survey and tends to skew the results.
Best practices while making survey questions mandatory:
Add only those survey questions that are absolutely necessary. Else, your survey respondent can completely drop off the survey.

Usually, surveys have a symbol like * (asterisk) to indicate that the survey is mandatory. Make sure that you explain the meaning of the symbol right at the beginning. Else, your survey respondents will get confused midway through the survey.
8. Don't Ask for Information That you Can on Other Forms
Personal questions of the survey respondents can be easily found on the contact form they fill up on your website. These include personal information like name, phone number, email address, and so on. Asking the same questions in the lead generation survey brings in redundancy. Also, it will unnecessarily take up space on your survey which could have been utilized for other relevant purposes.
Bonus: Contact Us Form Template
9. Avoid Open-Ended Questions
Open-ended questions do not come with predefined options for your survey respondents to select from. Instead, they need to think more and articulate their answer. This takes up a lot of their time and can get exhausting, leading to higher survey dropout rates. Hence, make sure that you have questions with clear answer options like multiple choice questions, rating level questions, Likert scale questions, and so on.
Read more: How to Analyze Open-Ended Survey Questions?
10. Don't Ask Questions With Obvious Answers
At times, we end up asking obscure questions in surveys which can confuse your potential lead. For example, if you are conducting a survey about their taste for cakes, do not ask them questions like "Do you like cake?". The answer is obvious that they like cake, else they won't be taking up the survey in the first place. Such irrelevant questions add redundancy to the survey and end up taking the survey space.
Leverage Lead Generation Survey to Grow Your Business
A lead generation survey is handy to identify leads for any type of business: e-commerce, banking, software, and so on. With the best lead generation strategies in your kitty, you can easily be one step ahead of knowing the lead's real requirements.
Lead generation survey best practices involve bringing in empathetic language in the survey while restricting the questions to just 3-4 close-ended questions. Also, ensure that you stay in touch with the lead and continue to nurture them. When they have adequate information about your brand and products, they might eventually convert into your customer.
Do you want a free Survey Software?
We have the #1 Online Survey Maker Software to get actionable user insights.