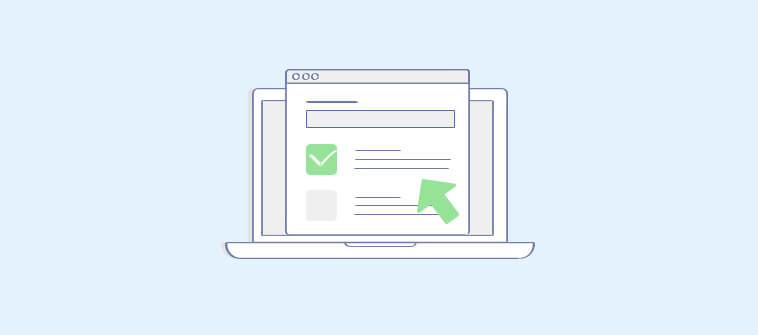 Stella is a market researcher at a large corporation and her main priority is providing insightful data for the entire company to use. The UX team uses it for their personas, the marketing team uses it for the adwords campaigns, etc…..
She's been collecting customer feedback via surveys for years but feels frustrated that results seem to be diminishing. In fact, last week's were abysmal:
Survey sent: 400
Survey opened: 180
Survey completed: 5
Instead of trying the same old thing, what she could consider is shifting the type of survey.
Stella needs to harness the power of anonymous surveys!
An anonymous survey helps Stella to capture the survey feedback, without collecting their personal information like name, phone number, email, etc. With privacy ensured, Stella can expect more engagement and responses on her survey. Also, anonymous surveys get more reliable, honest and open answers.
Wondering how?
This blog will walk you through the basic step by step method to build an anonymous survey.
Stay tuned for these topics, as you scroll down:
What is an anonymous survey?

Benefits of an anonymous survey

9 Proven Tips and Tricks to Create an Anonymous Survey

Bonus Tip (Well..it's a surprise!)
What is an Anonymous Survey?
An anonymous survey does not collect survey respondents' personal information like their name, phone number, email address, and location.
Research by University of Southern California and California State University shows that anonymous survey results give more truthful answers.
Wondering why?
The answer lies in the fundamental human psyche. We all feel open and free when un-judged. Anonymous surveys allow us to remain unknown while expressing our opinion. Since there are no personal details, the surveyors cannot know your background and judge you. Hence, you express your genuine, free, and fair opinion.
Yes, you can reap many benefits from an anonymous survey! Continue reading!
Benefits of an Anonymous Survey
An anonymous survey allows the respondents to open up. Assured anonymity ensures honest and reliable answers.
Building trust is a prerequisite for effective participation. With anonymity ensured, participants trust the organization and respond constructively.
Privacy protection acts as a motivation for people to open up without fear. When they are sure of their identity protection, many will come forward to take the survey.
Better Grievance Redressal
With no fear of judgment, respondents get an excellent avenue to redress their grievances.For example, in the case of employees who collectively face a pay issue, anonymity helps their voice reach the top management.
Reduction of Response Biases
Response bias refers to a participant's inclination to respond in a predefined manner. It is a common occurrence during non-anonymity. For instance, participants give a socially acceptable answer not to irk a particular community, resulting in biased answers. When you make the survey anonymous, it gives way for non-biased and transparent survey responses.
But, how do you make the anonymous survey questions lively and actionable?
Let's discover this in detail in the following section.
---
Read More: Steps to Create an Attractive and Engaging Survey
---
9 Proven Tips to Create an Anonymous Survey
#1. Include a Opt-out Feature:
Remember those ads which show up on a youtube video? If you observe closely, you can skip most of the ads after a few seconds.The reason being……The viewer gets to make a personal choice: to view or skip the ad, based on their liking.
The opt-out feature in a survey works in the same fashion. It gives the survey respondents a choice to answer a survey question. These questions are non-mandatory.
What are the pros?
Survey flexibility and reduced pressure to answer

Increased response rate

Better probability of getting answers on sensitive questions like money, past-experiences, etc
#2. Use More Close-ended Questions
Close-ended questions are straightforward and easy to answer. The customer chooses a list of predefined answers, consuming less time. On the other hand, open-ended questions are lengthy and time-consuming.
Consider a close-ended question,
"Will you recommend our product to your family and friends?"
Yes

No

Prefer not to answer
Here, customers pick an answer of his choice within seconds.
Now, let's look at an open-ended question,
"Please provide your recommendation for our service? (In 100 words)
Here, the customer needs more time to think through the answer and frame it. They might even skip this question.
To ensure getting the right response to the survey, follow the golden rule: Include the maximum number of closed-ended questions at the beginning and a minimum of 1-2 open-ended questions towards the end.
#3. The Right Way to Frame the Demographic Questions
What is your age?
Oh no! Why do I have to answer this? I may be old, but I am young at heart.
Have you thought about these lines?
Yes, we all have at some point in our lives. These are the demographic questions that collect your age, gender, marital status, etc. Agreed; it's personal and sensitive. But, these are essential to know the real needs of your customer. For example, men and women may have different perceptions of your product, and their requirements vary.
So, what's the way ahead? Create a delicate balance between need and sensitivity. Let's take a survey question example to understand this better.
---
Read More: How to Conduct Brand Awareness Surveys & What Are the Related Questions
---
What is your age?
———Please specify your answer.
With the above question, you are asking the exact age of your survey respondent. Most of them are reluctant to give away their actual age.
Let's modify the question and make it indirect, impersonal, and empathetic.
What is your age group?
18-30 years

30-45 years

45+

Skip this question
Asking our respondents to mention an age group doesn't make them reveal their original age.
Much comfortable and non-intrusive, isn't it?
#4. Avoid Confusing Double-barreled Questions
You have come out with a comprehensive survey questionnaire. You feel confident in its success. You get ready to start the survey campaign but, you stumble upon double-barreled questions that do not have a simple and straightforward answer. Double-barreled questions confuse your customers, and they ignore a crucial query.
Let take an example,
"Are you happy with the cost and quality of our product?"
If you observe closely, there are two questions combined into one: One on cost and the other on the quality of the product. Your customer may be happy with the quality of your product, but not the cost and vice-versa. Instead, make their job easy by asking them two separate questions,
"Are you happy with the product cost?"

"Are you happy with the product quality?"
Two separate questions give you a precise and definite answer. Because your customer can think of a response to each question separately, without being confused. Hence, say no to double-barreled questions in your anonymous survey.
---
Read More: How to Create Online Questionnaire Easily
---
#5. Include a Large Survey Base
Suppose you conduct a workplace harassment survey in your organization.
But…
You send the survey only to female employees. And your organization has only 30 female employees.In the end, you seem to identify your surveyees based on their response nullifying the effect of anonymity.
A small survey base makes it easy to identify survey respondents. In an organization, this leads to a biased treatment towards an aggrieved employee.
How to rectify this?
Include all the employees in the survey irrespective of the gender. Male employees could be a potential witness to workplace harassment. Hence, the chance of identifying the respondents reduces.
#6. Disable Custom Data Collection
Have you observed the cookies tab that pops up when you enter a new website? It stores your personal information and makes it easier for you to browse the website a second time.
Similarly, specific computer settings at a coding level help you collect your survey takers' custom variables like name, email, location, etc. These personal details appear by default at the end of a survey.
But, that's a breach of anonymity, right? What is the best way ahead?
Talk to your system developer. Ensure the disablement of custom data collection settings on your computer, in case of an anonymous survey.
In this way, you avoid the random personal data collection of your surveyees.
#7. Ensure Security Compliance:
In the year 2017, Morrisons, a supermarket chain, faced a colossal security breach. This led to the leak of 100,000 employees' details like a bank account. The consequences were massive! Morrisons lost about two million pounds!
Imagine the same situation in your business. Your survey responses fall into the hands of a hacker. And in case of an employee survey, it is easy to isolate their data.
How to protect the survey respondents identity?
Make sure that your survey is secure under the GDPR compliance norms. GDPR compliance norms came into being in 2016. It deals with ensuring the privacy of EU citizens by businesses across the world. Keep in mind that any breach of anonymity could take a fatal turn. It could be grievous for your business prospects.
#8. Keep Track of Duplicate Answers:
Consider a scenario where you receive 550 responses instead of 500 expected responses.
Wow! My response rate is high!
Let's not think so! You have received duplicate responses. Your survey respondents took the survey twice? How to eliminate the duplicates?
We know that the personal identity of the respondents remains unknown in an anonymous survey. But, without breaching the survey's anonymity, we need to ensure that the survey data collected is genuine and usable.
We use two methods at ProProfs to avoid survey reattempts.
Block reattempt by IP tracking:

Herein, a reattempt from the same IP, irrespective of the device, is blocked.

Reattempt blockage via Computer

: With this setting, a reattempt with the same username gets blocked.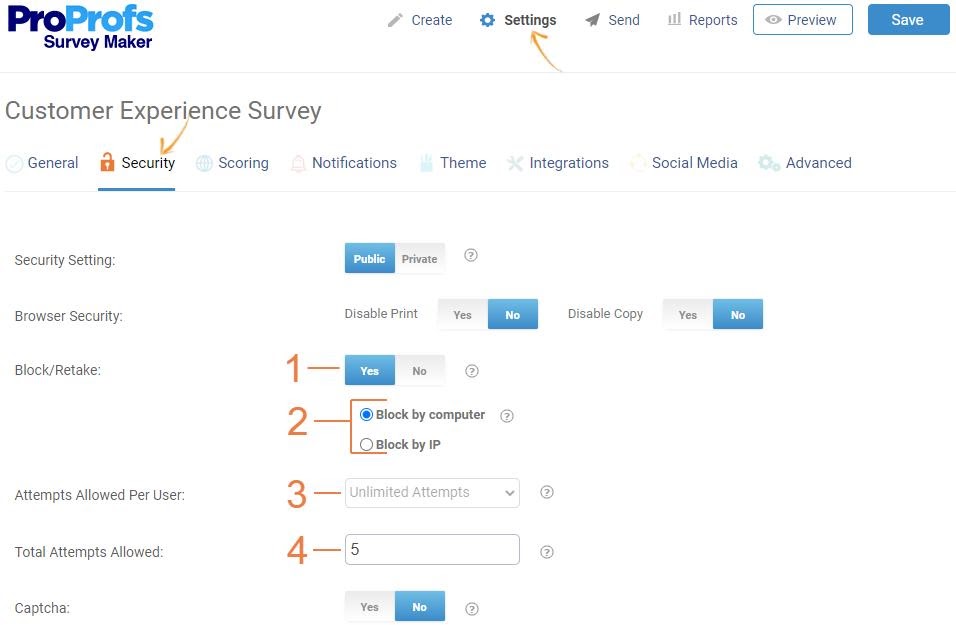 #9. Ensure an Extra Layer of Security
None of us like an uninvited and annoying guest, right? Spam responses are like those annoying guests, populating your survey with invalid and random answers. These responses are created by bots, thereby affecting the quality of your survey results.
How can we set this, right?
Add an extra layer of protection like reCAPTCHA. It is a verification system created by Google. It pops up at the end of a form or response submission. The pop takes the form of an identification puzzle or entering the alphabets. This exercise distinguishes between humans and bots. A bot cannot answer logical, intelligible questions that require human analysis.
Let's consider a reCAPTCHA setting here at ProProfs:
On the Security tab, enable or disable the reCAPTCHA setting.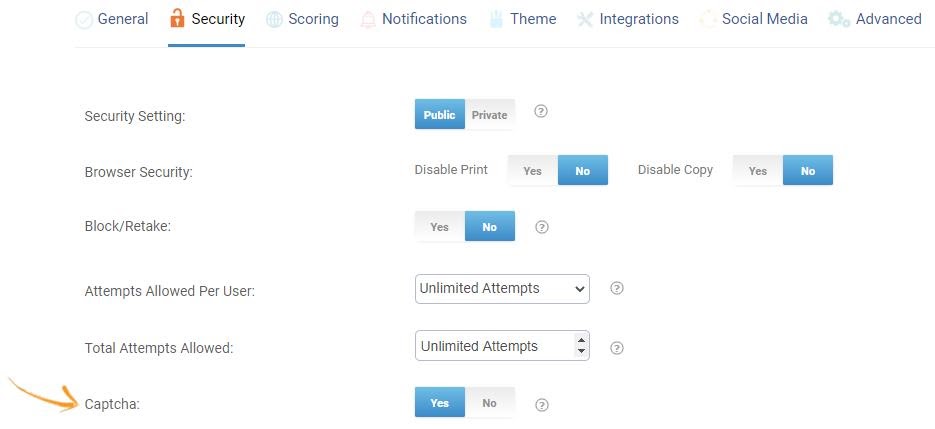 This is how the reCAPTCHA shows up: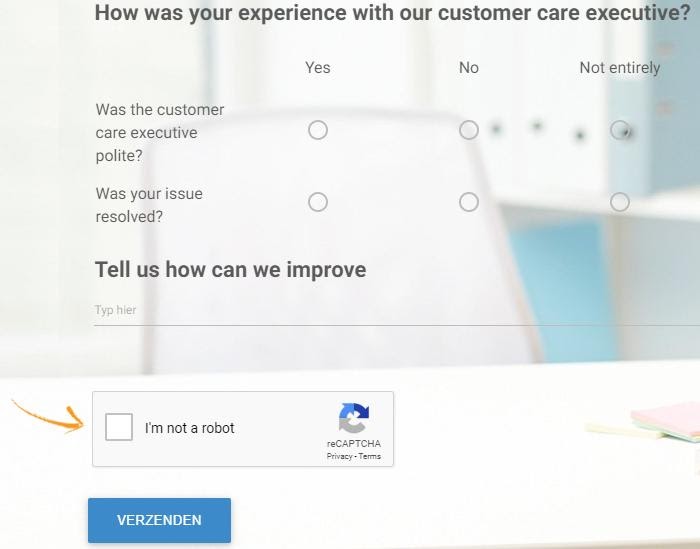 Now, coming to the surprise element….Let's learn to create an online anonymous survey with an anonymous survey tool.
---
Read More: Best Online Survey Software & Tools
---
Bonus Tip: Build an Anonymous Survey with ProProfs Survey Maker: A Step by Step Guide
Step 1: Open ProProfs Survey Maker Dashboard and click on "Create Survey Tab."
Step 2: Select create survey tab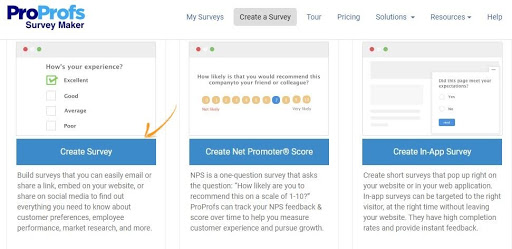 Step 3: Click on the create from the scratch button and select create an option.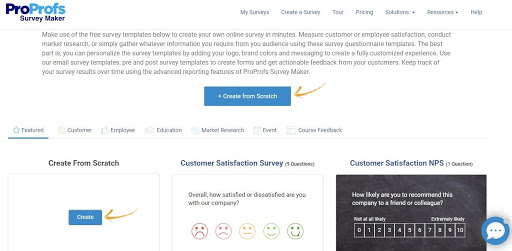 Step 4: On the survey editor page, give a name to your survey.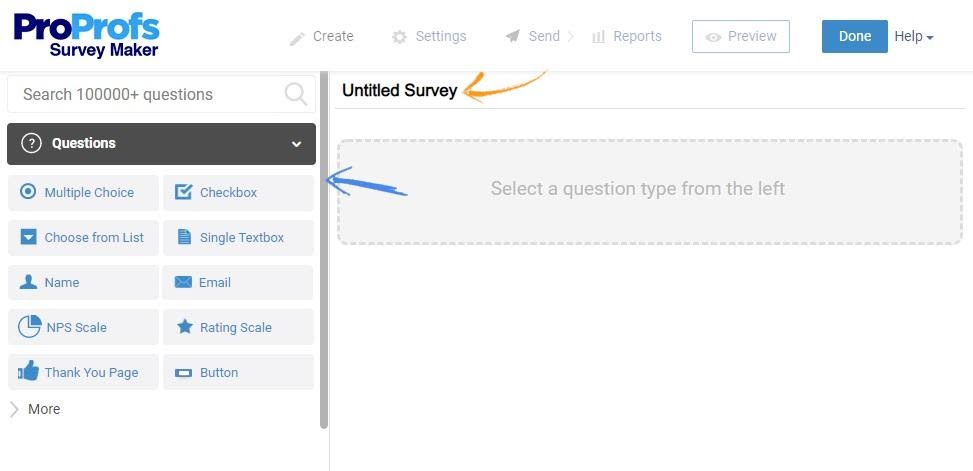 Step 5: Save your survey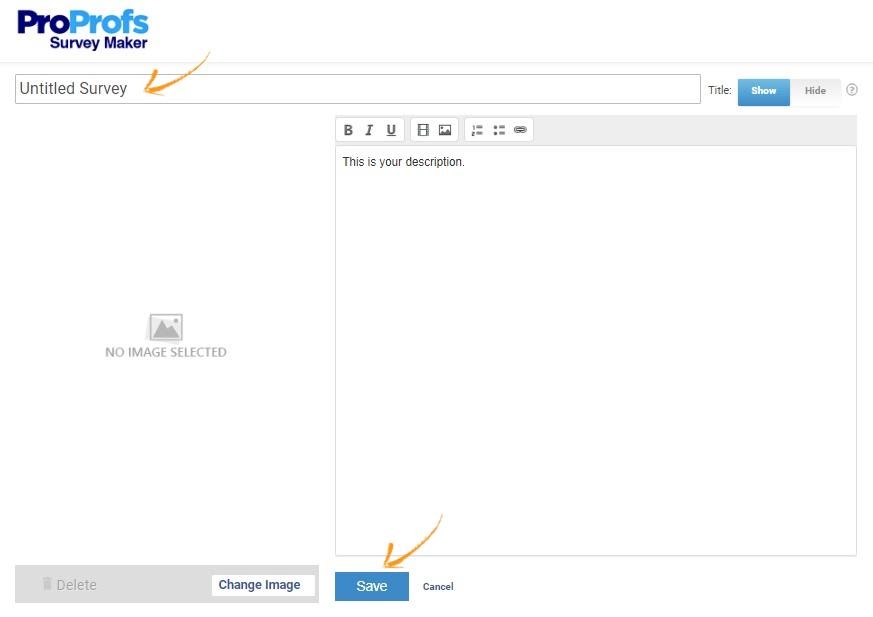 Step 6: In the editor section, start adding the questions.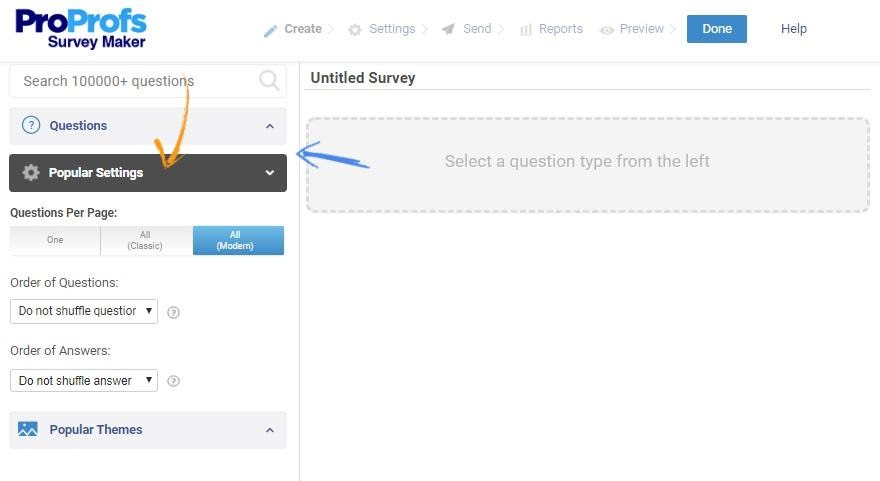 Step 6.1: Add a theme by selecting from the famous theme options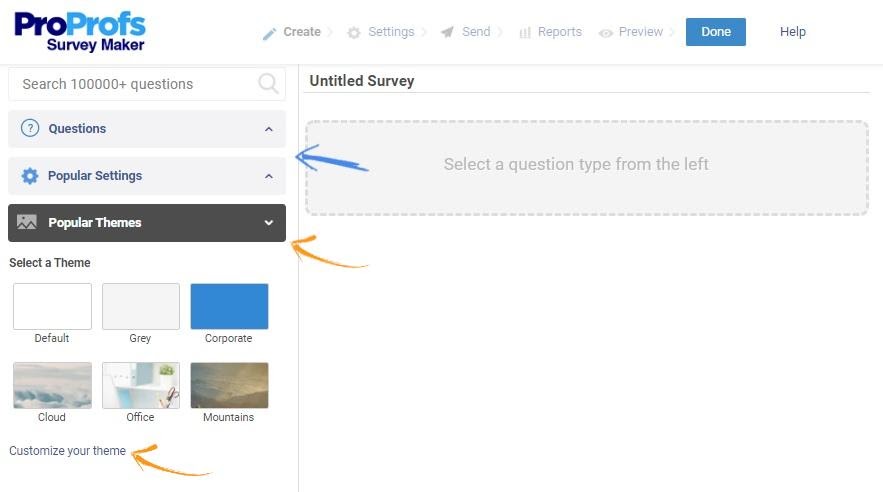 Step 7: Check the preview of your survey and click on done.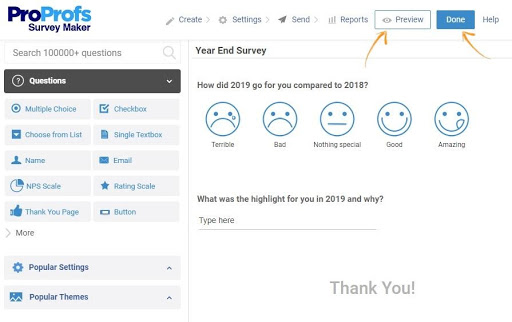 Survey sharing options
1. Select the send option of your new survey

2. Link: Copy the link to share

3. Embed: Embed the link on your website or blog.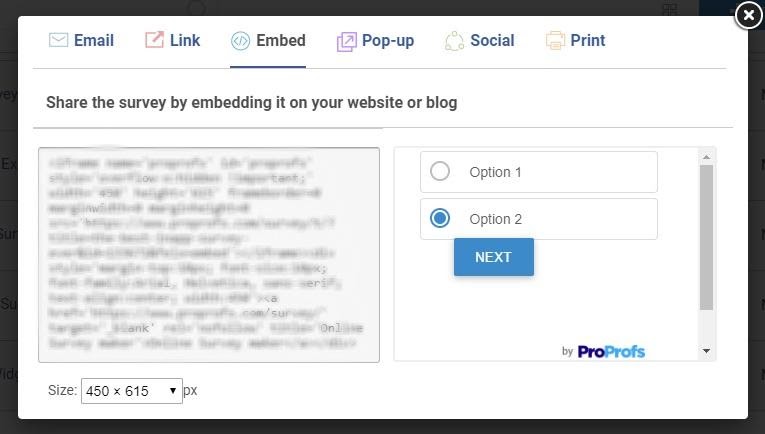 4. Pop-up: Include your survey as a pop-up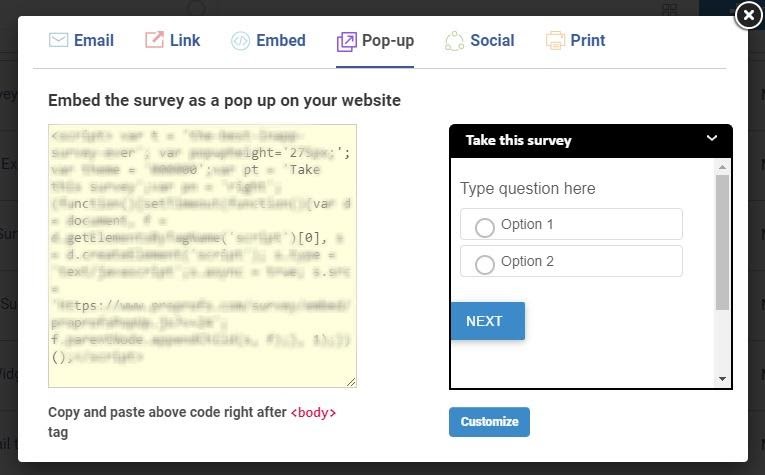 5. Social: Share your survey on social media

Browser Security Setting
On the Settings tab, navigate to security settings. Then, enable or disable the browser setting as per your convenience.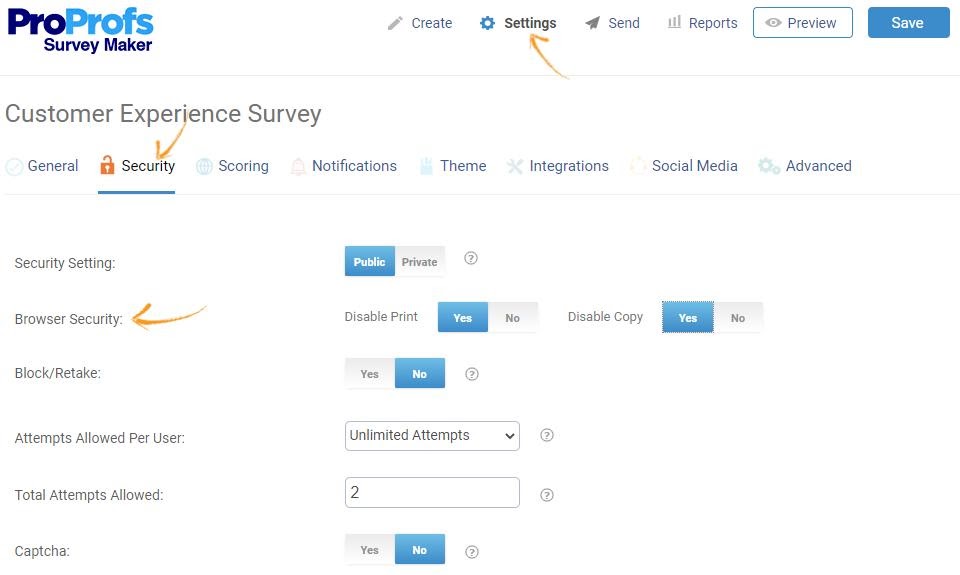 reCAPTCHA setting
On the Security tab, enable or disable the reCAPTCHA setting.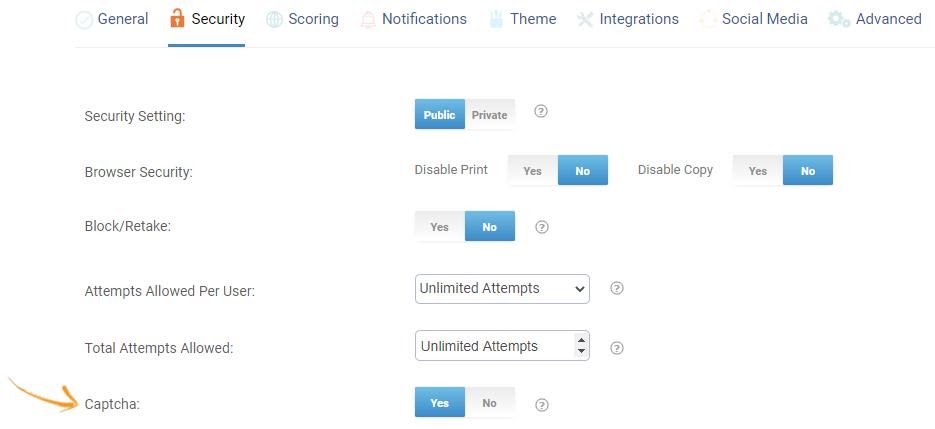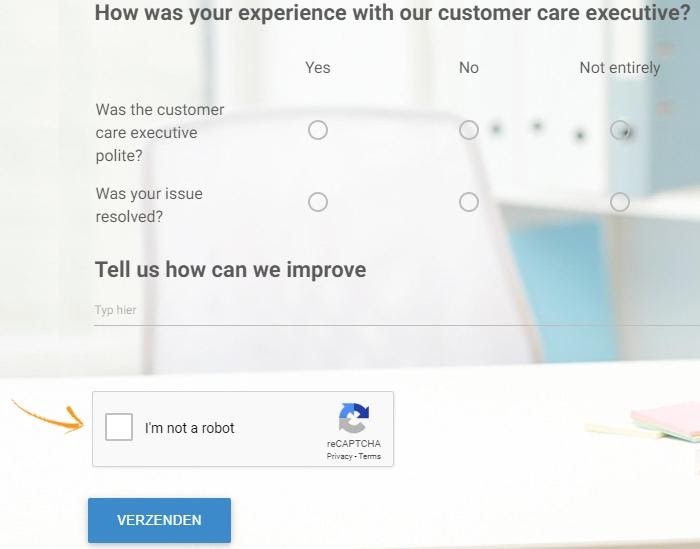 Block Reattempt of Surveys:
Step 1: Go to the security settings and navigate to the block setting.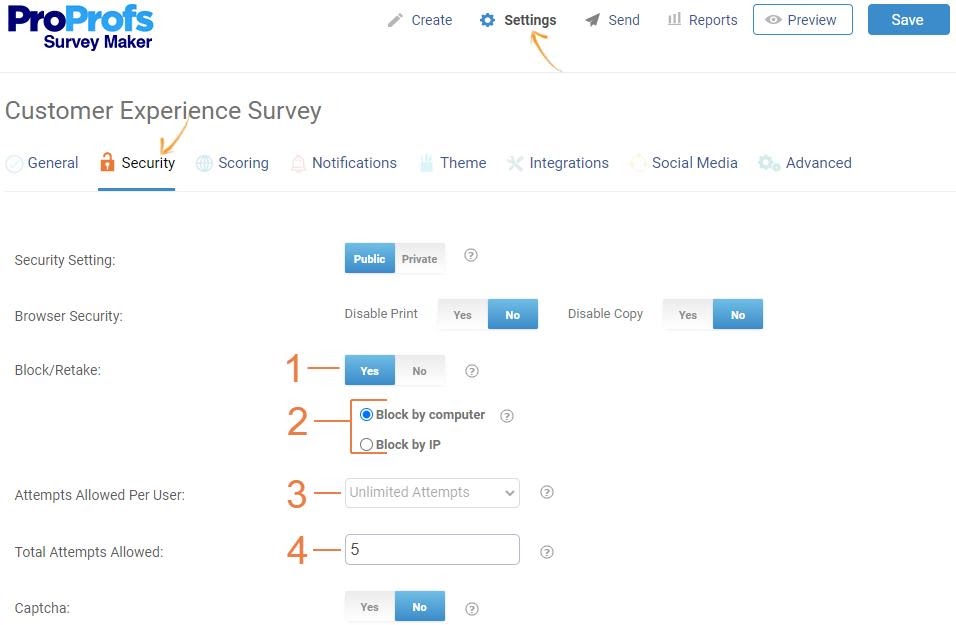 On this screen:
Upon enabling, reattempt is either blocked by the computer or blocked by the IP.
Check the following messages appear on your screen.


---
Make an Anonymous Survey your Best Ally!
Stella's now the most stellar employee in the company. She's getting praise from her boss and the teams that are enjoying the benefits of her survey results.
Stella's taking a well deserved day off. Online anonymous survey continues to be her saviour. It has reiterated the importance of customer experience for business growth.
In the meantime the marketing team is creating better campaigns than ever and the business is thriving. You, too, can be like Stella!
Want to create a free anonymous survey? Choose from 100+ templates of ProProfs Survey Maker.
Know the honest feedback of your customers!
Do you want a free Survey Software?
We have the #1 Online Survey Maker Software to get actionable user insights.