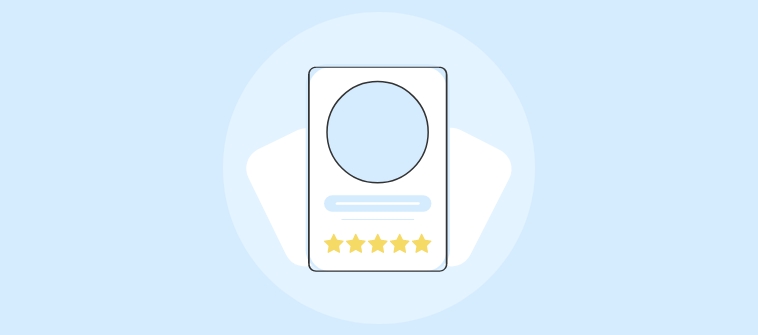 In-app feedback tools help businesses to collect real-time customer feedback, which is essential for a thriving business strategy. It helps determine what are the best and worst features of their products, and where they should direct their business efforts.
In-App feedback mechanisms are convenient, which allow users to share their concerns without disrupting their mobile app experience. Modern marketers and customer success managers leverage in-app feedback tools as they eliminate the need for the users to leave the app for providing valuable feedback.
In this post, we will understand how in-app feedback works and how it could benefit your business. Finally, we will explore the best in-app feedback tools that you can consider for your business.
What is an In-App Feedback Survey?
In-App feedback is a feature to collect feedback and reviews from mobile app users about their experiences. Whether you are capturing feedback for a new app feature, looking for new ideas, or simply gauging customer experience, in-app feedback surveys help to efficiently achieve these objectives for your business.
Tips to ensure high-quality In-App feedback:
Mention How Lengthy The Survey Is
Despite being busy, if people want to leave their honest feedback, then letting them know how long it will take would spark their interest and offer a high response rate.
Enable the progress bar to display how close is the respondent to completing the survey. You can add this either in the form of percentage or number of completed questions vs the total number of survey questions.
Survey design is crucial for the user experience. Try to create engaging surveys with ample white spaces, images, and branding to elevate customers' excitement for completing an in-app feedback survey.
Don't overload in-app feedback surveys with a long list of questions. Try to keep them short and simple. Whereas, if you need detailed feedback, try to split it into two, which will assist in better engagements and higher response rates.
Skip adding the questions that are not relevant to the case. Simply avoid asking for the details that you already have and save the respondent's time.
Ensures Mobile-Friendliness
Needless to say, when you are creating in-app surveys, they should be mobile-friendly. Offering mobile-friendly surveys will certainly elevate the user experience and the respondents will be happy to provide accurate details.
By all appearances, collecting customers' feedback via in-app feedback surveys should be a key part of your app development process. Your app users might experience bugs and crashes, but how do you know if this is the case? That's what makes in-app feedback important. Let's learn more about its importance.
Why Collect Mobile In-App Feedback?
Mobile app users expect mobile applications to be agile, powerful, and user-friendly. Due to available alternatives in the market, customers are impatient and tend to switch to other options. Hence, by leveraging in-app feedback, businesses can take the right steps towards evolving their mobile applications in the fierce market competition.
(a) Come Across as a Brand That Cares
If a user encounters issues within the app, they may feel that the developers don't care. Whereas embedding an in-app feedback system reveals your notion of being responsible and caring.
App users will undoubtedly remain engaged when they have an option to share their issues and experiences. They will feel like their voices and opinions are being heard. Hence, having an in-app feedback system could make the difference between whether your existing app users will switch to other brands or not.
For example, before they leave, you can simply ask:
"Please tell us why you are leaving?"
I couldn't find anything of interest.

I couldn't find additional information on the products

The purchase button isn't working

I'm unable to add the items to the shopping cart
(b) Saves You Money
Developing a robust and performing mobile application isn't a matter of a few dollars. Depending upon the functionality, design, and business model, it could be way expensive.
Not only does a mobile app failure could pose a massive loss to your business; but adding new features or making changes to the existing ones can be expensive too.
Hence, assumptions or guesses shouldn't be the way to go. If you ever wish to make expensive changes, you must have the customer data highlighting the issues that your customers are facing and what they really want.
Don't just risk wasting time and money. Leverage in-app feedback to know what changes are required to fulfill your customer needs.
(c) Helps in Prioritizing Features
In the competitive mobile app market, if your app has issues that hamper the user's functionality, your app users will surely think about switching to a better alternative.
Many such issues might go unnoticed while testing, therefore, the sooner you identify them, the faster you'll be able to fix them. So, a good feedback system will let you know the bugs and issues in your software. The gathered data will allow you to plan for necessary changes to make your app function correctly.
However, before making the expensive changes, make use of the user feedback data to prioritize what should be taken care of first. This way, you can focus on the functional issues rather than the issues related to the design and typography.
How Does In-App Feedback Work?
By now, it's clear that your newly-launched application is never a finished product. Improvements always exist that come as valuable opportunities to elevate user experience and make it a better product on the whole.
Customers always want to enjoy using the app. Being active users of your products, they tend to have deeper insights into what improvements should be made to make the product more usable. Therefore, they should be heard.
There are various ways available when it comes to capturing in-app feedback:
Customer Satisfaction Surveys

Extracting feedback from in-app support chat

Collecting customer insights using Nudges
One of the effective ways is gauging the overall satisfaction via a Customer Satisfaction Survey.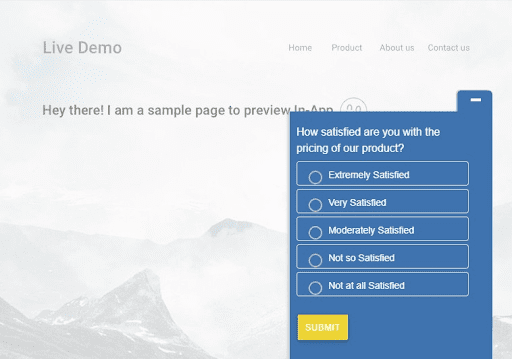 Also, you can effectively deploy in-app surveys via Qualaroo Nudge. It allows you to ask the right questions at the right time. Nudge can be placed at any section of the app and can be triggered either based on the responses or timings.
This is how it looks like: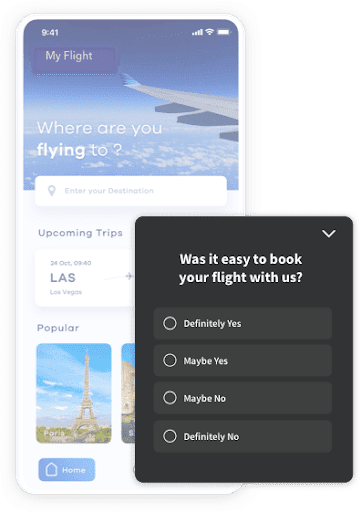 The above-discussed context has weight and substance, and having a permanent in-app feedback mechanism is a no-brainer. Now, let us explore the list of the top 15+ in-app feedback tools to help you get started.
16 Best Mobile In-App Feedback Tools
Given that you're now familiar with the importance of in-app feedback surveys and how they can benefit your business in retaining customers for a long time, let's reveal the 16 powerful in-app survey tools.
1. ProProfs Survey Maker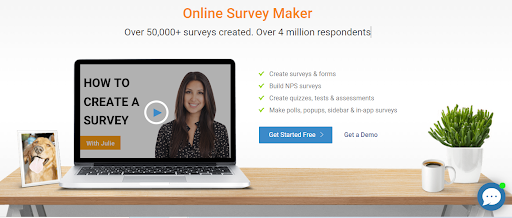 ProProfs Survey Maker is the most versatile In-app feedback tool that allows you to ask any question in any way you want. This powerful tool enables you to create in-app Surveys, scored quizzes, tests, and personality assessments with ready-to-use survey templates that you can customize with your own branding. The in-app collapsible surveys at the bottom of your mobile apps let you capture real-time customer feedback.
ProProfs Survey Maker incorporates robust features such as skip-logic, survey branding, targeting options, and customizable themes to create unparalleled in-app surveys for the following purposes:
Lead Generation

Conversion Optimization

Product Feedback

Content Feedback

Mobile App Experience Feedback
The comprehensive dashboard allows you to gauge completion rate, user data, NPS score trends, and other metrics easily. The Recent Activity Report feature can save you a lot of time and effort as you can instantly view and track real-time respondents' activities across all of your in-app surveys.
Bonus Read: What is the Best Time to Send a Survey
2. Qualaroo
Qualaroo helps you track the user sentiments while the customers look at your product, service & brand. This in-app feedback tool allows you to use professionally designed questions and templates to engage customers with their opinions. With loaded features, you can ask the right questions at the right time, making the in-app survey responses 10x more valuable than any other form of survey.
On top of that, Qualaroo's Sentiment Analysis enables businesses to automatically identify the sentiments, keywords, and emotional scores of the customer feedback. With advanced reporting, you take deep dives into the data for perfect analysis of user feedback.
Unique features include:
Branding

Branching logic

Alerts & triggers

High response rates
Such unique features make Qualaroo an ideal choice to collect real-time in-app feedback for app optimization, experience analysis, design improvement, and lead generation.
Bonus Read: 15 Best Online Survey Tools & Software
3. UserVoice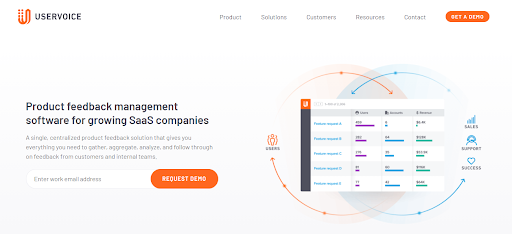 Source: UserVoice
UserVoice is another in-app feedback tool that enables you to capture, track and organize customer feedback within the mobile app or website. Powerful Customer Feedback analytics makes it a better choice for collecting feedback for product launches, beta testing, building a customer-centric strategy, and internal feedback.
The "Collect, Contextualise and Communicate" approach allows you to effectively capture feedback without interrupting users via in-app feedback widgets and APIs. It's feasible to keep customers in the loop while their feedback status moves through the product development process. Also, you can notify your customers when their requests are in progress, in beta version, or have been already launched.
UserVoice can be integrated with your existing ecosystem of tools, including Slack, Salesforce, Hubspot, Zendesk, Azure DevOps, Zapier, Amazon Redshift, and Microsoft Dynamics 365.
4. Helpshift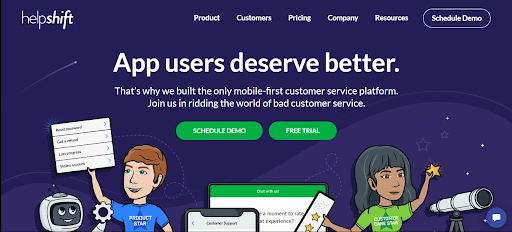 Source: HelpShift
Helpshift is one of the best in-app feedback tools that help you offer your customers quick and easy in-app help whenever they need it. That's purpose-built for mobile apps and designed in a way that's easy to use and always available.
Helpshift's powerful bot technology enables businesses to create highly accessible and user-friendly automated bots for different purposes. These bots access backend systems via dedicated APIs and can communicate in over 180 languages for expedited resolutions. All this can be done by choosing from pre-built bots and bot templates that possess the ability to resolve all kinds of queries to offer bespoke customer service improvements.
5. Apptentive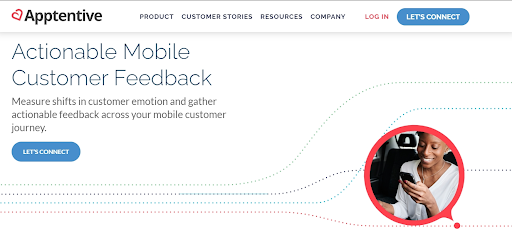 Source: Apptentive
Apptentive is regarded as one of the actionable mobile app survey tools to capture mobile customer feedback. This robust tool helps measure customer emotions and needs variations while offering a higher 90-day retention rate than the average mobile app.
Powerful Voice of the Customer solution listens to the customer feedback in real-time to find out the "why" behind the feedback. Businesses across the globe leverage Apptentive for:
Reputation Management

Customer Acquisition

Customer Loyalty and Retention

Product Roadmap

Customer Retargeting
To assist the in-app feedback process, Apptentive equips you with real-time data on customer behavior. Machine learning and semantic analysis provide fast and critical results with easy-to-share insights.
Related Read: How To Build A Customer Loyalty Program
6. Instabug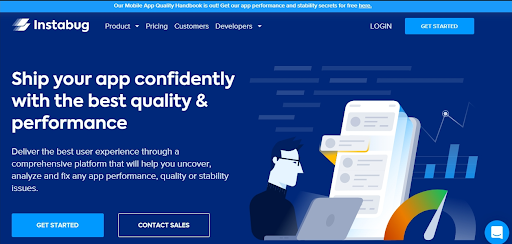 Source: Instabug
This in-app feedback tool provides a medium to hear from your customers to make informed decisions for improving your app experience. Instabug offers powerful integrations with your favorite tools, including Jira, Github, Slack, Zendesk, Zapier, and more. Such integrations can help you with bug tracking, project management, and support desks.
Instabug enables quick error and bug diagnosis via exceptional features including:
Shake to Invoke: Users and beta testers can simply share their feedback by shaking their devices. The feature also allows users to attach a screenshot, voice note, or screen recording to precisely describe the issue.
Custom Surveys: You can target multiple audiences via in-app surveys that are completely customizable. This way, you can garner accurate data to improve the product development process.
Version Update and What's New: Instabug sends automated notifications to the users about app version updates and the list of new features post-updating the app. Allied to it, you'll have detailed analytics of the users if they have updated the app or not.
7. HelpStack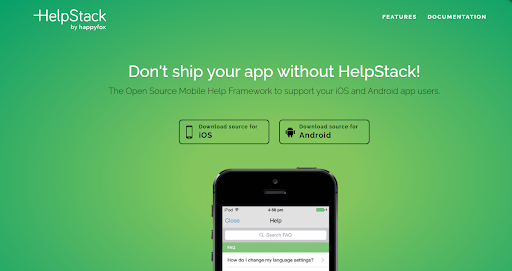 Source: Helpstack
HelpStack is another exceptional In-app survey tool – making in-app customer support easier via real-time conversations with the app users and more. The tool allows customers to simply raise tickets within the app with the option to attach screenshots for faster solutions. Whenever a user raises a concern, the tool automatically fetches the device and application information.
HelpStack offers the option to customize the screens with your brand colors and fonts without code. One can download themes from Github to get started right away. Moreover, you can also embed your knowledge base articles within the app to help customers with common concerns and queries.
8. UserTesting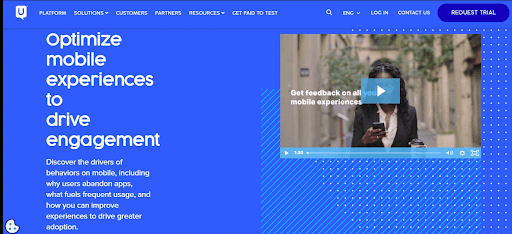 Source: UserTesting
UserTesting is one of the best mobile app feedback tools to get a holistic view of the customer journey across mobile devices. The tool lets you add customer insights into your business decisions via quick tests to determine why they abandon apps, what fuels repeated usage, and how to improve experiences to drive greater adoption.
Such mobile tests are easily customizable with pre-built templates according to the target audiences (Android or iOS users). It also offers a full-screen recording feature for the users with the option to use the camera to share their experiences and concerns.
9. Survey Monkey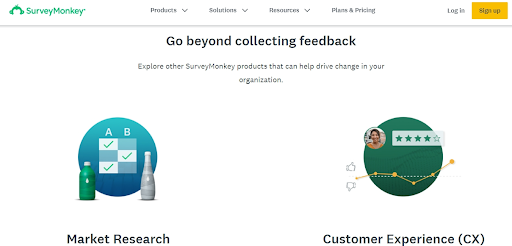 Source: SurveyMonkey
SurveyMonkey is one of the most efficient feedback tools that offer fast survey creation with flexible sharing options. You can choose from pre-built templates or ready-made questions for any survey project, including customer satisfaction, employee engagement, market research, and more.
The tool offers powerful insights via automatic charts and summaries to measure responses against industry benchmarks. One can choose pricing plans among the three available categories: Business Plans, Personal Plans, and Buy Targeted Responses. You can choose according to your preference, and each category has different levels as per the available features.
10. mParticle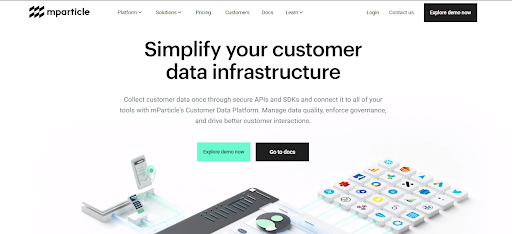 Source: mParticle
mParticle assists you with getting an accurate view of your customers across various touchpoints. With Mparticle's Customer Data Platform, you can connect your collected data with all your tools to drive improved customer interactions.
The tool allows you to stay on track with their product roadmap. You can get started with your preferred platform, one of the 12 SDKs, including iOS, Android, and cross-platform frameworks such as ReactNative, Cordova, and Xamarin.
11. Apptimize
Source: Apptimize
Apptimize is one of the most advanced mobile optimization solutions available in the market. It helps optimize each user experience by tracking them as they move from one channel to the other. This powerful tool is designed to assist the product team in testing efficiently and provide a consistent experience across various platforms.
While eliminating the developer's need, SDK enables a simple launch of mobile app testing that includes CTAs, images, and navigation items via Apptimize's Visual Editor. Moreover, you can control the timing of new features and target specific users for personalized experiences by leveraging Apptimize's feature flags.
12. QuantumMetric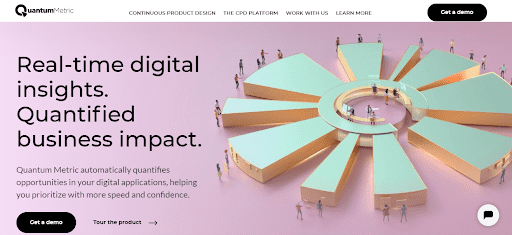 Source: QuantumMetric
QuantumMetric enables faster digital product development and experiences with real-time insights into customer signals. Being a Premier Partner of Google Cloud, QuantumMetric delivers essential insights through Google Marketplace.
Quantum Metric SDK is super lightweight and offers easier deployment. It uniquely captures the data that isn't just limited to app crashes but also captures behavioral indicators, conversion data, API performance, and much more.
13. Mopinion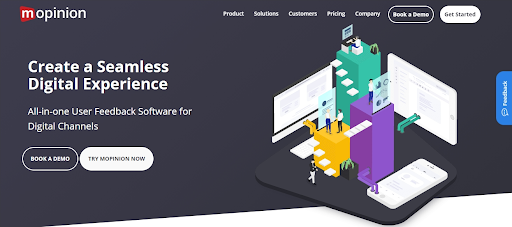 Source: Mopinion
Mopinion is an agile solution that aims to provide a frictionless digital experience and provide actionable insights into the customer behavior of your digital applications. The tool aims to boost app usability and user experience via powerful in-app insights and in-app targeting to enable businesses to stay ahead of the competition.
With features such as a drag and drop interface, survey creation is easier than ever. You can either create a customized survey or simply choose from the extensive collection of readymade templates. For an enhanced mobile experience, all surveys are easily adaptable to any mobile device and possess multi-language support to add multiple translations to any survey.
The tool offers SDKs for both iOS and Android to collect in-app feedback with native feedback forms and cross-platform solutions, including React Native and Cordova packages.
14. Doorbell.io

Source: Doorbell.io
Doorbell.io is a proactive mobile feedback app tool that's super easy to install either on your website or mobile app in a matter of minutes. The businesses that incorporate a multilingual customer base, could make the best use of this tool, as Doorbell is designed to work in multiple languages. It not only enables you to translate any part of the form but also automatically detects your website or app's language to provide relevant requests and responses.
Additionally, Doorbell offers 30+ integration with the Project Management, Help desks, and tam chat applications including Trello, Github, Jira, Asana, Slack, Zendesk, Salesforce Desk, and more.
The tool passes all feedback through sentiment analysis algorithms to automatically tag them as positive, negative, or neutral. So, you can easily search and filter responses based on appropriate tags to identify satisfied or unsatisfied customers.
15. Survicate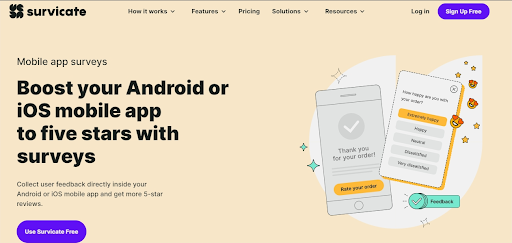 Source: Survicate
Survicate incorporates one of the easy-to-install mobile SDKs to garner feedback from Android and iOS users directly. With this tool, one can easily collect real-time product feedback on their website or mobile app by triggering the surveys exactly when a user performs specific actions while using your product.
Businesses are free to create product-friendly surveys with customized brand colors, logos, fonts, and custom CSS. Moreover, for easy creation, Survicate offers 15+ question types and 125+ survey templates, including NPS, CSAT, and CES.
Feasible integration allows you to update customer profiles in your preferred platforms, including Intercom, HubSpot, Salesforce, and more. Also, you can set automatic notifications via email or Slack for each incoming survey response and filter the data by date, scores, and more advanced filters and attributes.
16. Pollfish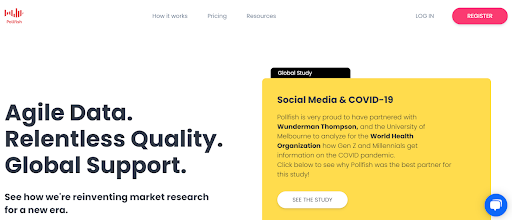 Source: Pollfish
When it comes to creating mobile surveys, Pollfish does all the heavy lifting for its clients. It offers an extensive list of question types and features to address your research objectives and business goals. The questionnaire covers the question types from single selection, multiple selections, and NPS questions to the slider, rating stars, and matrix questions.
Pollfish works towards the objective to garner insights from the actual customers, i.e., reaching out to the app users for real-time feedback rather than sending out surveys via emails or third-party apps. Moreover, the native integration with 120k+ partner apps allows Pollfish to send out surveys to real customers with installed apps, enabling them to capture responses directly from the targeted audience without the need of leaving mobile apps.
Benefits of Using In-App Feedback Tools
Certainly, you need to be great at delivering a rich customer experience to minimize customer churn and elevate customer satisfaction for your mobile app users.
It happens many times that when users are ready to provide their feedback, they have forgotten half of the concerns where they needed help. But how could you resolve this situation? This is where in-app feedback comes into the picture.
It not only helps you gain real-time feedback but also assists in making debugging simple and manageable. Let's take a look at the four benefits that in-app surveys bring to the table:
1. Keeps You In-Tune With Your Customers
Customer engagement is crucial, and the majority of marketers agree that it drives renewals, repeat purchases, and retention.
Just because using an app and sharing feedback happens in the same place, it enhances the interactions with the customers. The improved interactions further help you with recognizing the needs of your customers- making the brand more customer-centric and thriving.
2. Evaluate App Performance
For long-term business success, consistency is the key. And, consistently working on customer feedback assists in delivering quality services to the customers.
In the same way, opting for an in-app feedback tool helps to evaluate app performance and creates the possibility of frequent product improvements based on user feedback.
Hence, it's important to rely upon in-app feedback to gauge app performance to deliver an unparalleled user experience for steering your product towards success.
3. Helps Build Effective Product Roadmap
Businesses usually encompass new and exciting features for their product roadmap to get implemented someday. It may include responsive design, customization, social media connectivity, offline capabilities, enhanced speed, and much more.
It may seem exciting to roll out all the features at once; however, you need to be patient and slow as you go.
Analyzing the insights collected from the app feedback, offer you a precise indication as to which features are more valued by your users and should be instantly implemented. This way, you can effectively plan your product roadmap to regularly meet or exceed your customers' expectations.
4. Helps To Save a Lot on Two Crucial Business Aspects: Time and Money
Developing a well-performing app isn't always a cheap decision. Therefore, another crucial benefit of having in-app feedback is the financial advantage.
As mentioned earlier, adding new features or tailoring the existing ones could be expensive if the decisions are solely based on estimations and guesses. Working in accordance with the collected feedback from the actual customers will help you prioritize the upcoming changes and offer solutions accordingly – ultimately saving your valuable time and money.
Leverage In-App Feedback Tools For Better Engagement
There are numerous reasons to collect app feedback. The garnered details assist you in better engaging your customers, improving your products, refining product strategies, and retaining existing customers.
The available mobile in-app feedback tools such as ProProfs Survey Maker can help you give user feedback the center stage and create a valuable mobile app experience for your customers. While you can also bank upon Qualaroo or Quantum Metric if you wish to capture detailed mobile app insights.
The right tools can help you save time, money and create more sustainable mobile applications. Exactly the ones that customers love, promote, and share with their friends and families.
Do you want a free Survey Software?
We have the #1 Online Survey Maker Software to get actionable user insights.